Add to Cookbook

Neapolitan slice
30 minutes, chilling time: 2 hours, freezing time: overnight
8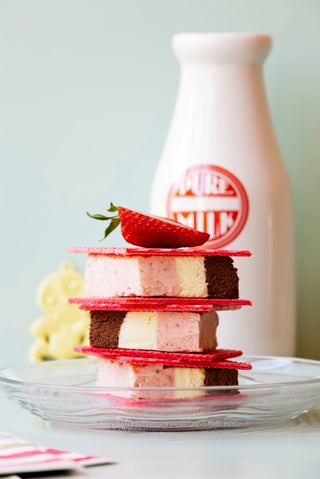 This home-made slice includes indulgent mascarpone, fresh strawberries and quality chocolate so it outshines the commercial varieties. Serve sliced accompanied with fresh strawberries.
Ingredients
300 ml bottle cream, well chilled
½ cup caster sugar
½ teaspoon vanilla essence
250 gram pouch mascarpone
50 grams dark chocolate, melted and cooled
100 grams strawberries, pureed
Method
Line a 10cm x 20cm loaf tin or freezer-proof container with 2 layers plastic wrap.
Whip the cream, sugar and vanilla essence together until thick, gently stir into the mascarpone and divide the mixture into three equal portions.
To one portion, stir in the chocolate, to the next the strawberry puree and leave the third portion plain.
Spread the chocolate portion into the base of the prepared tin and freeze for one hour. Place the remaining portions in the refrigerator. After one hour, spread the strawberry or vanilla portion on top of the chocolate and again return to the freezer for one hour. Repeat with the remaining portion, cover with plastic wrap and freeze overnight.
Remove from the freezer and place in the fridge for 15-20 minutes before cutting into slices to serve.