Add to Cookbook

Mustard And Creme Fraiche Baked Chicken
10 minutes
40 minutes
4-5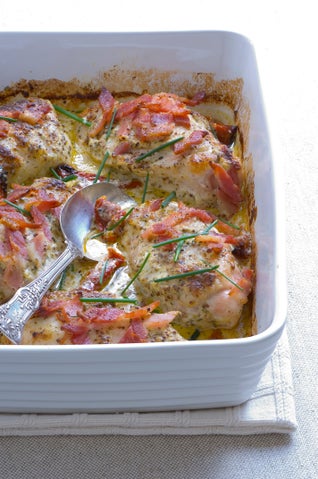 Easy and delicious!
Ingredients
4-5 chicken breasts
250 gram tub creme fraiche
2 tblsp wholeseed mustard
1 tsp dried tarragon
250 gram punnet halved cherry tomatoes
2-4 chopped rashers bacon
few sliced sundried tomatoes (optional)
Method
Place chicken breasts into a deep oven proof dish. Mix together creme fraiche with wholeseed mustard and dried tarragon and spoon over the chicken.
Scatter over cherry tomatoes, chopped bacon and, if you have them a few sliced sundried tomatoes. Season well with plenty of freshly ground black pepper.
Fan bake at 180ºC for 30 minutes or until the chicken is just tender. Serve hot garnished with snipped chives.
Cooks Tips
While the chicken is cooking the oven, add in some medium-sized potatoes to cook at the same time. Wash, dry and prick potatoes with a fork. Rub with oil and flaky salt and place directly onto the racks and cook for about 45 minutes. If you only have large potatoes, cook them pierced with a metal skewer and that way they metal will heat up helping to cook the potatoes from the inside out and cut down the cooking time.