Add to Cookbook

Mushrooms In Soy Broth With Cashew Nut And Chilli Over Ginger Couscous
4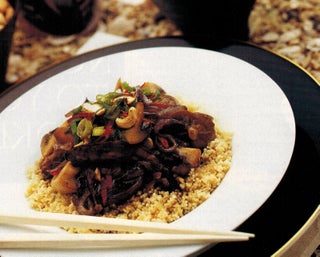 Mushrooms have a real affinity with Asian flavours. This dish is a mushroom overload. It is very easy to make and truly delicious.
Ingredients
2 red onions, peeled and finely sliced
2 tblsp oil
12 large flat mushrooms
12 button mushrooms
6 large or 12 small shiitake mushrooms
about 8 dried porcini or oyster mushrooms, reconstituted
½ cup water or vegetable stock
2-3 tblsp dark soy sauce
salt and pepper
Ginger Couscous
2 cups couscous
2 cups boiling water
2 tblsp grated fresh root ginger
1/2 tsp salt
Garnish
2 spring onions, trimmed and finely chopped
1 red chilli, deseeded and finely sliced
½ cup toasted cashew nuts
fresh coriander or parsley leaves, chopped
Method
Cook the onions in the oil in a large lidded frying pan over a moderate heat for about 30 minutes until the onions have become quite golden and caramilised.
Slice the field mushrooms thickly and add to the pan with the quartered button mushrooms, the halved shiitake mushrooms and the dried mushrooms. Toss quickly over a moderate heat.
Add the water or vegetable stock and soy sauce and simmer for about 10 minutes until the mushrooms have wilted. Season with salt and pepper. Keep warm.
Put the couscous in a large bowl and pour over the water with the ginger and salt. Stir well and set aside for 5 minutes until the couscous has absorbed all the water. Fluff with a fork.
Serve the mushrooms on top of the couscous, garnished with spring onions, chilli, cashews and coriander or parsley. I like to add a dollop of sour cream and so serve a bowl alongside if wished.