Add to Cookbook

Mushroom and ricotta pate
5 minutes
10 minutes, Chilling time: 1 hour
Makes 1¼ cups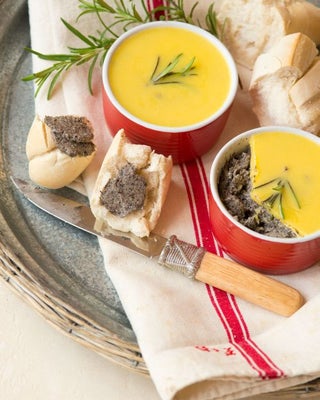 A quick pate to add interest to the nibble platter. Use only flat mushrooms; their flavour is far more intense.
Ingredients
250 grams flat mushrooms, diced
2-3 teaspoons minced garlic
1 teaspoon chopped fresh rosemary
2 tablespoons oil
2 tablespoons brandy
150 grams ricotta cheese
50 grams butter, melted
Method
Pan fry the mushrooms, garlic and rosemary in the oil until the mushrooms are well softened and no moisture remains in the pan. Add the brandy and flambe if wished, otherwise simmer for 1 minute. Remove from the heat and cool.
Place the mushrooms in a food processor with the ricotta cheese and process until smooth. Season with salt and pepper and maybe a pinch of porcini powder or even chilli flakes.
Transfer the mixture to 2x ¾ cup capcity ramekins and cover each with a thin layer of melted butter. Refrigerate for 1 hour. Serve with crackers.