Add to Cookbook

Mushroom and port soup
10 minutes
in the slow cooker: low 5-6 hours, high 3-4 hours, plus extra 20-30 minutes
Makes 10 cups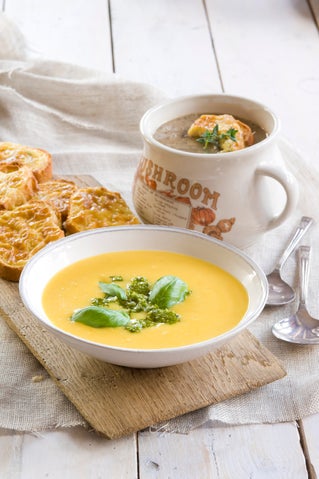 Considering there's very little preparation involved in this recipe, it has an excellent flavour. In place of port, you can use pinot noir. Blue cheese is a classic partner with mushrooms, but rather than adding blue cheese to the soup, which can overheat and go stringy, make blue cheese crostini as seen on our website.
Ingredients
1 kilogram large mushrooms
2 medium-sized floury potatoes, peeled
8 shallots, peeled and sliced or 1 onion, peeled and sliced
1 teaspoon minced garlic
4 juniper berries, crushed
6 cups chicken, vegetable or light beef stock
1 cup port
1 cup cream or sour cream
1 tablespoon cornflour
Method
Turn the slow cooker on to low to pre-warm while gathering and preparing the ingredients.
Chop the mushrooms and potatoes roughly and place into the pre-warmed slow cooker with the shallots or onion, garlic, juniper berries, stock and port. Stir to mix and cover with the lid.
Cook on low for 5-6 hours, or on high for 3-4 hours, or until the vegetables are tender.
Puree the soup in a food processor or blender until smooth and return to the slow cooker.
Stir the cream or sour cream and cornflour together until smooth and stir into the soup. Cover with the lid and cook on high for a further 20-30 minutes or until the soup has thickened and is hot. Season with salt and pepper. Alternatively, return the soup to a saucepan to add the cream and cornflour and stir over a low heat only until thickened and hot. Do not boil.
Cooks Tips
- Use Portobello or large flat mushrooms for best flavour. - For a richer mushroom flavour, add 4-6 thin slices of dried porcini mushrooms or 1-2 tablespoons porcini mushroom powder with the mushrooms and potatoes. There will be no need to soak the dried porcini slices as they will soften well enough during the slow cooking. - Porcini mushrooms come form the cep family and add a wonderful depth of flavour to most slow-cooked dishes where mushrooms are featured. Look for them in specialty food stores.