Add to Cookbook

Mulligatawny
30 minutes with browning, 40 minutes without browning
low 6-7 hours, high 3-5 hours, plus extra hour
Makes 9-10 cups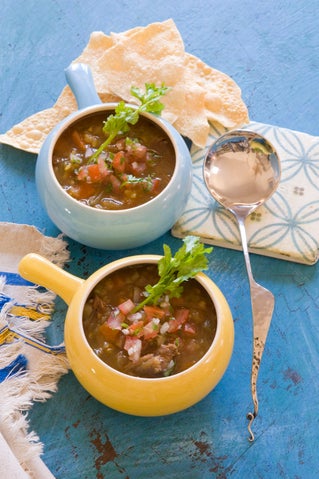 This is one of my favourite soups. It became popular dueing the time of the Raj. The name is Tamil in origin and literally translated means pepper water, though it is not a peppery hot soup, rather a rich, sweet curry-spiced beef soup.
Ingredients
1 kilogram oxtail or meaty beef bones
2 onions, peeled and finely diced
2 carrots, peeled and finely diced
2 stalks celery, trimmed and finely diced
1 large eating apple, peeled, cored and finely diced
3 tablespoons flour
1-2 tablespoons curry powder
½ teaspoon ground pepper
¼ teaspoon ground mace or nutmeg
¼ teaspoon ground cloves
¼ cup tomato paste
¼ cup mango chutney
8 cups light beef stock or water
¼ cup cup short or long grain rice
Method
Turn the slow cooker on to low to pre-warm while gathering and preparing the ingredients.
If wishing to brown the ingredients: Heat a dash of oil or a knob of butter in a frying-pan and brown the beef oxtail or bones and onions very well.
Into the pre-warmed slow cooker put the beef, onions, carrot, celery and apple.
Mix together the flour, curry powder, pepper, mace or nutmeg, cloves, tomato paste, mango chutney and beef stock or water to make a smooth mix. Pour over the beef and stir to mix the ingredients as well as possible. Cover with the lid.
Cook on low for 6-7 hours or on high for 3-5 hours.
Lift the beef bones from the slow cooker and when cool enough to handle pull the meat from the bones, discarding any fat. Return the meat to the slow cooker with the rice, cover and cook on high for a further hour.
I like to serve the mulligatawny in small bowls garnished with finely chopped tomato, red onion and coriander on top and a pile of poppadoms on the side if wished.
Cooks Tips
Variation - Chicken mulligatawny: Use 2-4 chicken leg and thigh portions in place of the beef bones. Browning is optional. - Oxtail imparts a magnificent beefy flavour, but as it is quite fatty, tray and chill the finished soup overnight to easily lift off any excess fat. Reheat and serve. - Cook poppadoms in the microwave to lower the fat level. Place 2-3 poppadoms in one layer and microwave for 45-60 seconds on high (100%) or untl the poppadoms are cooked.