Add to Cookbook

Mrs Beeton's shortbread
15 minutes
25-30 minutes
Makes 24-30 pieces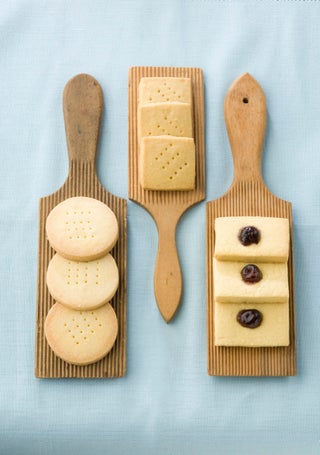 An old recipe form the second edition of Mrs Beeton's Book of Household Management from the 1860s. This shortbread is not at all sweet, reflecting the change over time for sweeter-style baking.
Ingredients
150 grams butter, softened
¼ cup caster or icing sugar
1 egg yolk
1½ cups flour, sifted
2 tablespoons rice flour or cornflour, sifted
12-15 glace cherries, halved
Method
Preheat the oven to 160ºC. Lightly grease 1-2 baking trays or line with baking paper.
In a medium-sized bowl, beat the butter, sugar and egg yolk until creamy and well beaten.
Work the flours into the creamed mixture. Turn out onto a very lightly floured surface and form into a mass.
Roll out to 0.5-0.7cm thickness. Cut into shapes and place on the prepared trays. Decorate each biscuit with a cherry half.
Bake in the preheated oven for 25-30 minutes until lightly golden around the edges.
Cool on a cake rack before storing in an airtight container.
Cooks Tips
- Do not over-knead the mix as this will produce a tough shortbread. - The additional of an egg adds richness and was predominantly done in Ayrshire, southwest Scotland.