Add to Cookbook

Moroccan lamb rump with roasted pears and quince jus
35 minutes
35 minutes
4-5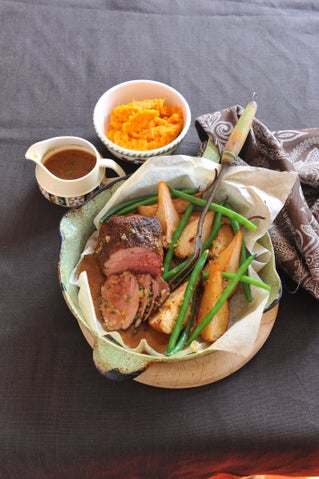 Here the combination of pears, lamb and spices accompanied by nutmeg mashed roast pumpkin - inspired from a garden full of crown pumpkins - makes the perfect meal to share with friends.
Ingredients
2 lamb rumps
2 tablespoons Moroccan spice blend
2-3 pears, quartered
2 tablespoons melted butter or olive oil
1 tablespoon sugar
Quince or pear jus
¼ cup finely chopped onion
½ teaspoon minced garlic
½ cup sherry
½ cup beef stock
2 tablespoons quince or pear paste, jam or jelly
Method
Preheat the oven to 180ºC. Remove the lamb from the refrigerator and set aside, covered, for 30 minutes before cooking.
Rub the lamb rumps liberally with the Moroccan spice blend. Brown the lamb in a dash of oil in an ovenproof frying-pan. Brush the pears with the melted butter or oil, sprinkle with the sugar and place beside the lamb.
Roast in the preheated oven for 20-25 minutes. At this stage the juices should be pink and clear. If still bloody, cook for a further 5 minutes. To make the Quince or Pear Jus, remove the lamb and pears from the pan and place the pan over direct heat.
Add the onion and garlic to the pan and cook for 3-5 minutes or until the onions has softened. Pour in the sherry and allow to reduce by half. Add the stock and boil briskly until reduced by half. Stir in the quince or pear paste (jam or jelly) until melted. Season with salt and pepper.
Carve the lamb and serve with the quince jus, roasted pears, nutmeg mashed roast pumpkin and your favourite green vegetables.
Cooks Tips
- Use any favourite Moroccan spice blend: there are a number of brands to choose from today - look in the spice section of the supermarket.