Add to Cookbook

Moroccan lamb cutlets on olive couscous salad
20 minutes
10 minutes
4-5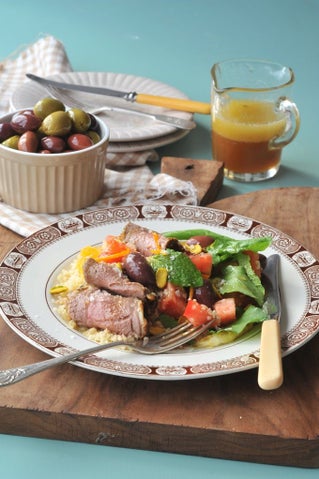 Create this sensational couscous salad by rubbing couscous with finely chopped, meaty black olives and fresh, gutsy marjoram. The couscous remains light and fluffy - making a perfect base for the ras-el-hanout-spiced lamb cutlets.
Ingredients
10-12 lamb cutlets, Frenched
2 tablespoons ras-el-hanout
1 tablespoon finely chopped fresh thyme
2 teaspoons minced garlic
½ cup oil (extra virgin olive oil is nice here)
Olive and couscous salad
1½ cups instant couscous
2 oranges
20-24 black olives, stoned
½ cup finely chopped fresh marjoram or oregano
½ cup finely chopped fresh parsley
¼-½ cup finely chopped dried apricots or glace quince
1 teaspoon honey or sugar
Method
In a sealable bag put the lamb cutlets, ras-el-hanout, thyme, garlic and half the oil. Seal the bag and massage well. Set aside to marinate while preparing the salad.
Put the couscous into a large bowl and pour over 1½ cups of boiling water. Stand for 7-10 minutes or until the water has been absorbed. Pour over the remaining oil, fluff with a fork and cover with plastic wrap. Microwave for 1 minute on high and fluff again. Cool.
Grate the rind from the oranges. Cut away and discard the white pith and finely slice the flesh. Chop the olives finely. Add to the couscous with the orange rind and rub with your hands to mix well. Add the oranges slices, herbs, apricots or quince and honey or sugar and use a fork to gently mix in. Season with pepper.
Arrange the couscous on a serving platter, adding a few salad leaves such as rocket, watercress, baby spinach or torn iceberg leaves if wished.
Pan-fry or barbecue the lamb cutlets over a moderately high heat for 2-3 minutes on each side or until cooked to medium-rare. Form medium, cook for 1 extra minute on each side. Arrange the cutlets on top of the salad and serve. If wished, serve with a jug of honey and cider dressing.