Add to Cookbook

Moghul chicken kebabs
35 minutes, marinating time 20 minutes or 4 hours to overnight
20 minutes
4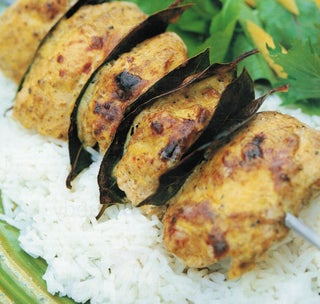 Bay leaves are essential for the garam masala spice mix used to marinate the chicken in this recipe. Their warm, spicy flavour is further imparted into the chicken by skewering the leaves between the chicken pieces on the kebabs. Brushing the kebabs with egg mix during cooking gives a crusty coating, a technique I learnt on a trip to Delhi.
Ingredients
Spice mix
3 dried bay leaves
½ cinnamon stick
3 tablespoons cumin seeds
2 tablespoons coriander seeds
1½ tablespoons whole black peppercorns
1 tablespoon cardamom seeds
1 tablespoon whole cloves
1 heaped tablespoon blade mace
1 heaped teaspoon ground turmeric
Chicken
8 boneless chicken thighs
1 cup Greek or low-fat thick plain yoghurt
3 tablespoons spice mix
24-30 fresh or dried bay leaves
1 egg
Method
Crumble the bay leaves and place in a spice or coffee mill with the cinnamon stick. Add the remaining spices to a hot frying pan and cook over a moderate heat for about 2 minutes, until the spices are fragrant but not burnt. Shake pan regularly so that they toast evenly. Cool. Add the toasted spices to the mill together with the turmeric and process until the mixture is fine. Store in an airtight container.
Prepare the spice mix and stir 3 tablespoons of it into the yoghurt. Cut the chicken thighs into quarters and place in a bowl with the yoghurt and spice mix. Stir to coat evenly. Cover and refrigerate chicken for 4 hours or overnight.
Preheat the oven on fan grill to 200ºC. Line a baking tray with foil. Set the oven rack about 15cm from the grill bars.
Thread chicken pieces evenly on to 8 metal or pre-soaked bamboo skewers, placing a bay leaf at regular intervals. Brush of excess marinade and reserve any yoghurt mix. Arrange on the prepared baking tray.
Grill the chicken under the preheated grill for 10 minutes. Beat the egg with 3-4 tablespoons of the reserved yoghurt mix and brush a little onto the kebabs, continue to cook for a further 3-5 minutes, turning regularly. Repeat once more - total cooking time is around 16-20 minutes. Alternatively, cook the kebabs on a well-greased barbecue or, better still, line the barbecue hot place with barbecue-thickness non-stick sheets.
Serve the kebabs with lemon or lime wedges and enjoy with favourite Indian breads, chutneys and a salad.
Cooks Tips
- Fold a layer of foil over the ends of bamboo kebabs before grilling to prevent the sticks from drying out and burning.