Add to Cookbook

Moghul Chicken Kebabs with tomato salsa
15 minutes, marinating time 4 hours
15 minutes
6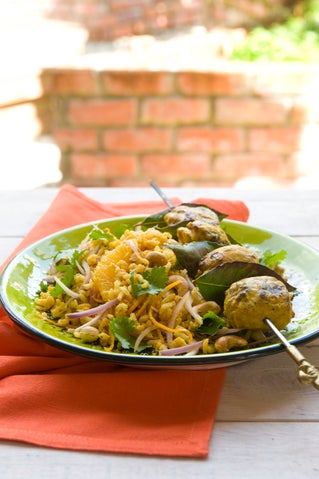 These chunky kebabs benefit from being marinated for 4 hours. The flavours can easily be changed by using different curry pastes or curry powders.
Ingredients
boneless chicken thighs
1 cup thick plain unsweetened yoghurt
2 tablespoons curry powder or curry paste
1 teaspoon ground cumin, optional
about 20 fresh or dry bay leaves
1 egg
cashew nut and pilaf rice salad (see recipe on our website
fresh tomato salsa, optional
Method
Cut the chicken thighs into quarters and place in a bowl with the yoghurt, curry powder or curry paste, and coriander and cumin, if using. Stir to coat evenly. Cover and refrigerate for 4 hours or overnight.
Thread the chicken pieces evenly onto 6 metal skewers, placing a bay leaf at regular internals. Reserve 2 tablespoons of the yoghurt mix.
Barbecue the kebabs over a moderately hot grill or hot-plate, turning occasionally until almost cooked - about 10 minutes.
Beat the egg with the reserved yoghurt mix and brush this onto the kebabs 2-3 times and continue cooking for a further 5 minutes, or until the kebabs are well done.
Serve with cashew nut and pilaf rice salad and fresh tomato salsa, if wished.
Tomato salsa
For an easy salsa, chop 2 large juicy tomatoes finely. Mix in 1-2 tablespoons of chopped onion (spring, red or brown), about 1 teaspoon of minced ginger and a dash of oil and vinegar.
Cooks Tips
- The flavour of bay leaves improves on drying, softening any bitter notes in the fresh leaves. Dry bay leaves should have a deep green colour and not be khaki - these are old and relatively flavourless and need to be binned. For the kids: - Alternate the chicken on the skewers with chunkily cut vegetables, like courgette and tomato, and brush excess marinade off the chicken before cooking. Omit the egg and marinade step. - Don't forget the crispy poppadoms - kids love them. Variations: - For a sweeter, more fragrant curry mix, add ½-1 teaspoon ground cardamom with the curry powder or curry paste, or use a Thai curry paste. - In place of bay leaves, use wedges of red onion.