Add to Cookbook

Mixed roast potatoes with garlic, paprika and rosemary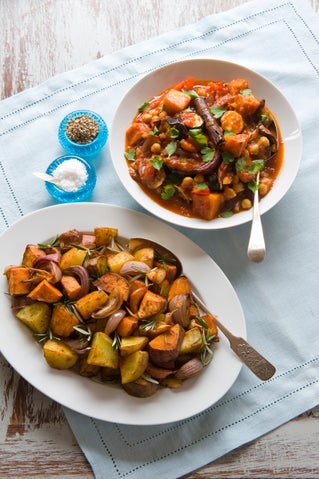 Perfect for any Christmas or holiday family dinner.
Ingredients
4 large floury potatoes
3 red-skinned kumara
3 yellow or orange-fleshed kumara
2-3 onions, peeled
a good handful of garlic cloves, crushed and peeled if wished
3-4 generous stems of rosemary, stripped of leaves
¼ cup oil
1½ tablespoons paprika
Method
Preheat the oven to 200º (or fan bake 180ºC).
Wash the potatoes and kumara and peel if wished.
Cut the potatoes and kumara into chunky pieces and place in a shallow roasting dish. Cut the onion into chunky wedges and add to the roasting dish with the garlic, rosemary, oil and paprika. Season liberally with salt and pepper and then toss.
Bake in the preheated oven for 45 minutes or until golden.
Cooks Tips
- Floury potatoes, also known as starchy potatoes, are best for roasting or baking. Look for Ilam, Hardy, Red Rascal, Agria or Fianna.
- Fan-baking in a shallow roasting dish or on a shallow baking tray will help give the vegetables more colour and crispier exterior. Deeper roasting dishes can sometimes trap the heat and cause the vegetables to steam and not brown as well.
- Other herbs that go well with potatoes include thyme and sage. Place them under the vegetables so they do not burn. Replace with fresh herbs, if wished, before serving.
- For the kids, roast potatoes and kumara are usually a great hit but do some without the paprika and herbs just in case.