Add to Cookbook

Mixed pork ragout
30 minutes
in the slow cooker low 4-5 hours, high 3-4 hours
6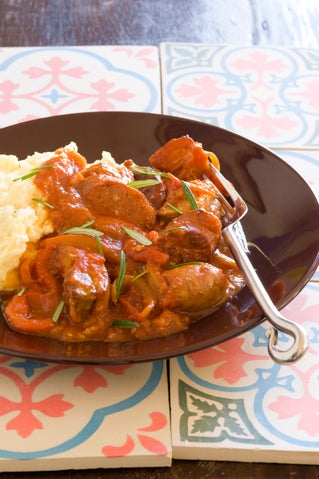 This hearty flavoured pork dish is best cooked on low to allow the flavours to 'mellow in' together.
Ingredients
2 red capsicums
750 gram lean piece pork belly, skin removed
3 thick smoked chorizo sausages
4 thin or 2 thick pork sausages
2 bacon steaks or 4 rashers bacon, diced
1 onion, peeled and sliced
1 tablespoon minced garlic
1 tablespoon paprika
½ teaspoon saffron threads, optional
400 gram can tomato puree
6 large jiuicy tomatoes, roughly chopped
Method
Turn the grill on to 220ºC. Line a baking tray with foil. Turn the slow cooker on to low to pre-warm while gathering and preparing the ingredients.
Cut the capsicums in halves or thirds and place cut-side down on the prepared tray. Brush lightly with oil if wished. Grill the capsicums under the preheated grill until they are well blackened all over. Wrap loosely in the foil and allow to cool before peeling away the charred skin. Cut into 1-cm-wide strips.
Cut the pork belly into 3-4-cm-sized pieces. Cut the smoked chorizo sausage on an angle into 1-cm-thick slices. Twist the pork sausages in half to make them smaller.
Heat a good dash of oil in a large heavy-based frying-pan and brown the pork belly, chorizo and pork sausages and bacon over a moderately high heat until well browned on all sides. This will be best done in batches to avoid the pan from becoming overcrowded and the meat stewing rather than browning. Set aside and brown the onion in any remaining oil until golden brown, but not burnt.
Into the prewarmed slow cooker put the pork, sausages, bacon, onion, garlic, paprika, saffron if using, tomato puree and fresh tomatoes and cover with the lid.
Cook on low for 4-5 hours or on high for 3-4 hours, or until the pork is tender. Serve over a bowl of creamy gnocchi or mashed potatoes and garnish with plenty of fresh herbs, like parsley, oregano or rosemary.