Add to Cookbook

Mint and bacon stuffed lamb
40 minutes
in the slow cooker low 6-8 hours, high 4-5 hours
8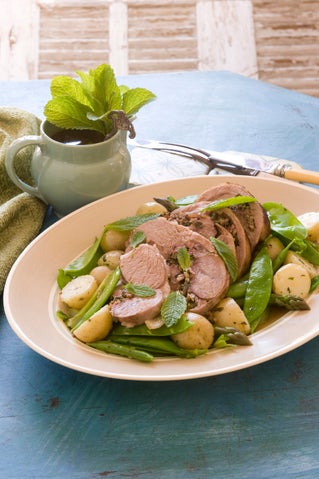 When I was an apprentice chef, this was a recipe we made regularly as it gave us practice at boning the lamb, stuffing and securing evenly with string. The simple stuffing permeates its way through the lamb as it cooks. The bacon, which will colour the lamb meat pink, gives a light smoky flavour which is softened by the sweet shallots and fresh garden mint - lamb's classic partner.
Ingredients
4 rindless rashers bacon, finely diced
2 shallots, peeled and very finely diced or ¼ onion
¼ cup finely chopped fresh mint
1.6-1.7 kilogram boned shoulder of lamb
½ cup pinot gris or other white wine
chicken stock or light beef stock, about 1 cup, if necessary
2-3 tablespoons instant gravy powder
Method
Turn the slow cooker on to low to pre-warm while gathering and preparing the ingredients.
Heat a dash of oil in a frying-pan and cook the bacon and shallots or onion until lightly golden. Cool and mix with the mint.
Spread the mixture on the inside of the shoulder of lamb. Roll up and secure with string or bamboo skewers, which may need trimming to get the lamb into the slow cooker.
Heat a dash of oil in frying-pan and brown the lamb well on all sides. It needs to be wel browned for good flavour.
Into the pre-warmed slow cooker put the lamb and wine and cover with the lid.
Cook on low for 6-8 hours or high for 4-5 hours.
Make the braising liquid remaining in the slow cooker up to 2 cups with stock and place in the saucepan.
Whisk in the instant gravy powder and stir over a medium heat until lightly thickened. Season with salt and pepper.
Serve the lamb thinly sliced with a minted pea and new potato medley.