Add to Cookbook

Mini Chocolate Christmas Pudding Truffles
10 minutes
Chilling time: 1 hour
Makes 30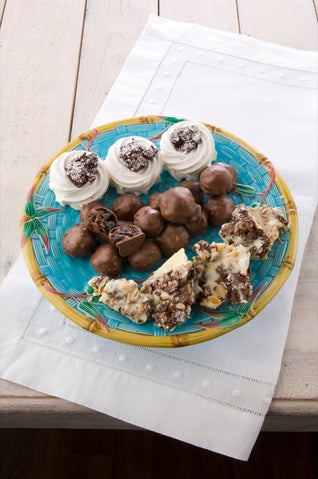 Everybody loves chocolate and these delectable little treats will be an absolute hit at your party. They are so simple to make, yet look sensational and taste delicious - making truffles has never been easier!
Ingredients
200 grams pre-made Christmas pudding
¼ cup mini chocolate chips
2 tblsp whisky, rum or brandy
100 grams dark chocolate, melted
Method
Crumble the pudding into a bowl and toss through the chocolate chips and whisky. Mix well and shape half teaspoon lots into small balls. Refrigerate for 1 hour.
Melt the chocoate in the microwave on high power for 2 minutes or until amost all the chocolate has melted. Remove and stir to melt.
Dip the balls into the chocolate to cover and allow the excess chocolate to fall off before placing onto a cake rack to cool and for the chocolate to set.
When set remove carefully and transfer to a lidded container. Keep refrigerated or in a very cool place. If wished, decorate with cachous or with melted white chocolate.
Cooks Tips
- For these truffles, we used Ernest Adams Christmas Pudding.
- When buying dark chocolate, look for one with about 70 per cent cocoa solids.
- In place of alcohol, use fruit juice.