Add to Cookbook

Mini beef and cambozola burgers on crostini
15 minutes
7 minutes
Makes 20-24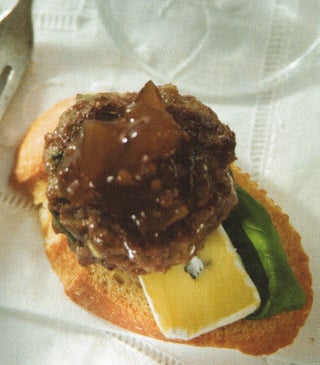 Looking for a little nibble with more dash than cash?, then here's an idea. Cambozola is a cheese that's a mix of French triple cream cheese and Gorgonzola from Italy. Any soft rind blue cheese will be ideal to use here.
Ingredients
500 grams lean beef mince
1 egg
3-4 spring onions, trimmed and finely chopped
2 tablespoons chopped thyme or 1 teaspoon dried thyme
4 large gherkins, very finely chopped
½ cup fresh breadcrumbs
125 grams Cambozola cheese, diced
To serve
20-24 crostini
125 grams cambozola cheese
rocket leaves
1 cup onion marmalade
Method
Mix together the mince, egg, spring onions, Cambozola cheese with a good seasoning of salt and pepper. With wet hands, mould the mixture into 20-24 small even-sized meatballs. (At this stage the meatballs can be covered and refrigerated until required).
Cook the meatballs under a hot grill or in a lightly oiled frying pan over a high heat for about 5-7 minutes, turning once. The meatballs should be just cooked.
Arrange a leaf of rocket on a crostini and top with a slice of Cambozola cheese. Place a warm mini-burger on top and garnish with onion marmalade. Serve warm.
Cooks Tips
Minced lamb or venison would also be delicious here.