Add to Cookbook

Minestrone
20 minutes
in the slow cooker: low 5-6 hours, high 3-4 hours, plus extra 30 minutes
Makes 10-12 cups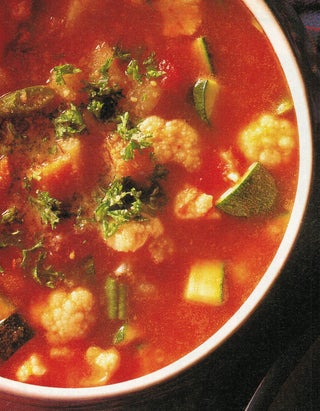 There are many versions of this traditional Italian winter vegetable and bean soup, though I also like it in late summer and early autumn so I can pile on lashings of freshly made basil pesto.
Ingredients
3-4 large waxy potatoes, peeled and diced
200 grams pumpkin, peeled and diced
1 large onion, peeled and diced
2-4 rashers rindless bacon, finely chopped
3 teaspoons minced garlic
¼ cup short-grain rice
2x 400 gram cans diced tomatoes in juice
8 cups chicken stock
310 gram can cannellini beans
200 grams green beans, sliced
2 courgettes, trimmed and diced
Method
Turn the slow cooker on to low to pre-warm while gathering and preparing the ingredients.
Into the slow cooker, put the potatoes, pumpkin, onion, bacon, garlic, rice and tomatoes. Stir in the stock - there should be enough liquid to just cover all the vegetables. Cover with the lid.
Cook on low for 5-6 hours or on high for 3-4 hours, or until the vegetables are almost tender.
Drain the cannellini beans, rinse under cold running water and drain well. Add to the soup with the green beans and courgettes. Cover with the lid and cook a further 30 minutes on high or until the green beans are tender. Season if wished.
Serve the minestrone in large bowls. If wished, garnish with a generous spoonful of basil pesto or basil leaves.
Cooks Tips
Variations: - Use carrots in place of pumpkin. - Use 1 kilogram chopped fresh blanched tomatoes rather than canned tomatoes. - Use flavoured canned tomatoes such as Italian-seasoned or tomatoes flavoured with garlic or basil. - Use pancetta in place of bacon and try borlotti beans in place of cannellini beans. - For a richer flavour, stir in 1 cup sun-dried tomato pesto - one without too much Parmesan. - Stir in ¼ cup extra virgin olive oil before serving to add a gentle olive flavour and smooth texture to the soup. - If you have time, browning the onions and garlic in a good dash of olive oil will enhance the finished flavour of this classic Italian soup.