Add to Cookbook

Middle Eastern coleslaw with cumin and dill mayonnaise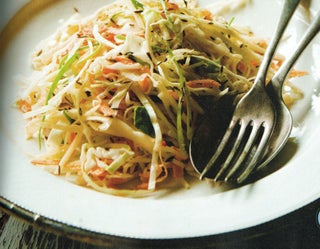 Swede is delightful grated and served raw in a coleslaw spiked with spices from the Middle East.
Ingredients
1 medium swede
2 carrots, peeled and grated
¼ cabbage, finely shredded
1 red pepper, deseeded and diced or sliced
2-3 spring onions, trimmed and finely sliced
1 red chilli, deseeded and finely diced
1 teaspoon cumin seeds, toasted
Cumin and dill mayonnaise
¾ cup mayonnaise
½ teaspoon ground cumin
½ teaspoon ground coriander
1 teaspoon dried dill or 1 tablespoon chopped fresh dill
Method
Peel the swede, about 3mm thick, to remove the bitter outer layer. Grate the swede coarsley.
In a large bowl, toss together the grated swede and carrot, shredded cabbage, red pepper, spring onion, chilli and cumin seeds with the mayonnaise.
Cumin and dill mayonnaise
Stir together the mayonnaise, cumin, coriander and dill and toss through the coleslaw about 30 minutes before serving. This is enough time for the vegetables to remain crispy and the flavours to mingle and avoiding the vegetables becoming soggy.