Add to Cookbook

Mexican frijoles with radish and tomato salad
soaking time: overnight, preparation time: 20 minutes
low 7-9 hours, high 4-5 hours
8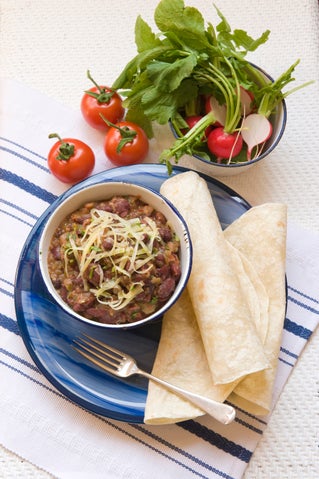 This rustic bean recipe is best served well seasoned and accompanied with a salad like this crunchy sweet/hot fresh radish and tomato salad.
Ingredients
2 cups dried red kidney beans
2 onions, peeled and finely diced
2 green capsicums, diced
400 gram can diced tomatoes in juice
2 long green chillies, diced (deseeded only if wished)
2 chipotle peppers, optional
2 tablespoons Mexican seasoning mix
1 tablespoon minced garlic
2½ cups water
Radish and tomato salad
8-10 fresh, crisp radishes, washed and trimmed
4 juicy tomatoes, sliced or diced
1 red onion, peeled and finely sliced
¼ cup chopped fresh oregano
Dressing
¾ cup vinaigrette
2 tablespoons honey
Method
Soak the beans in plenty of cold water overnight. Allow 3-4 times the amount of water to beans.
Turn the slow cooker on to low to pre-warm while gathering and preparing the ingredients.
Drain the beans well, place into a large saucepan and cover with fresh water. Bring to the boil and boil rapidly, uncovered, for 20 minutes. Drain well.
Place the beans into the pre-warmed slow cooker with the onions, capsicums, tomatoes, chillies, chipotle peppers if using, Mexican seasoning mix and garlic. Stir in the water and mix the ingredients evenly. Cover with the lid.
Cook on low for 7-9 hours, or on high for 4-5 hours, or until tender.
Use a potato masher to mash the beans roughly and season well with salt and pepper.
Serve the frijoles with the radish and tomato salad and warm fresh tortillas if wished.
Radish and tomato salad
Slice the radishes finely. Toss together with the tomatoes, onion, oregano, vinaigrette and honey.
Cooks Tips
- Mexican seasoning mixes are a blend of spices including cumin, oregano, garlic, chilli and so on. Look in the spices section or the international food section of the supermarket. - Chipotle peppers are smoked and dried jalapeno peppers. Available in specialty stores or look in the international food aisles at the supermarket. - To warm tortillas, wrap them in foil and place in a 180ºC oven for 10-15 minutes. Variations: - Stir in ½ cup evaporated milk before serving. - Use Mexican-flavoured canned tomatoes.