Add to Cookbook

Mexican beef 'n' beans
soaking time overnight, without browning 30 minutes, with browning 40 minutes
low 6-7 hours, high 3-4 hours
10-12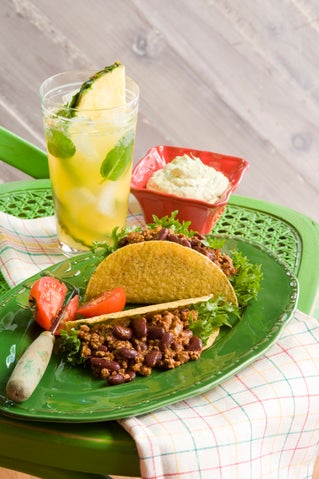 Tacos are great family food. Making the filling in a slow cooker means you can use plenty of dried beans. Pre-soaked kidney beans, though, must be boiled rapidly for 20 minutes before putting into the slow cooker.
Ingredients
1½ cups dried kidney beans
750 grams lean, coarsley minced beef
2 onions, peeled and finely diced
1 tablespoon minced garlic
400 gram can diced tomatoes in juice
150 grams mushrooms, diced
1½ tablespoons paprika
1 tablespoon Mexican chilli powder seasoning
1 teaspoon ground cumin
2 cups beef stock or water
Avocado cream
2 avocados
125 gram tub sour cream
2 tablespoons chopped fresh coriander
2 teaspoons ground coriander
1 teaspoon ground cumin
Method
Cover the kidney beans with water. Allow 3-4 times the amount of water to beans and leave overnight or for at least 12 hours.
Drain well. Place the beans into a large sauce pan and cover with fresh water. Bring to the boil and boil rapidly, uncovered, for 20 minutes. Drain well. (At this stage, the beans can be refrigerated in an airtight container for 1-2 days).
Turn the slow cooker on to low to pre-warm while gathering and preparing the remaining ingredients.
If wishing to brown the ingredients brown the mince and onions well in a dash of oil in a hot frying pan. This will be best done in 2-3 batches to avoid the meat from stewing. Set aside.
Into the pre-warmed slow cooker put the kidney beans, mince, onion, garlic, tomatoes, mushrooms, paprika, Mexican chilli powder seasoning, cumin and stock or water. Stir well and cover.
Cook on low for 6-7 hours or on high for 3-4 hours, or until the beans are tender.
Season with salt and pepper and serve with rice or in tacos, or as nachos with the avocado cream to accompany.
Avocado cream
Halve, stone and peel the avocados. Place the pulp in a bowl with the sour cream and mash with a fork or potato masher to make a smooth or chunky cream - the texture is up to you. Season with the cumin and salt and the fresh and ground coriander to taste.
Cooks Tips
Variations: - Vary the beans and adjust the cooking time to suit, larger beans will take longer and may require more beef stock or water. - Use Mexican-flavoured tomatoes. - Add 2 tablespoons chopped Jalapeno peppers. These are sold bottled in brine, or occasionally you will find them fresh around February/March. - Mexican chilli powder seasoning is a blend of paprika, cumin, garlic, chilli and more. If you do not have any to hand, but have plain chilli ppowder, use only 1-1½ teaspoons chilli powder. - Use chuck steak, cut into small 1-cm cubes or less, in place of the mince.