Add to Cookbook

Mediterranean Roast Lamb (butterfly)
10 to 15 minutes
45 to 50 minutes
overnight or at least 1 to 2 hours
8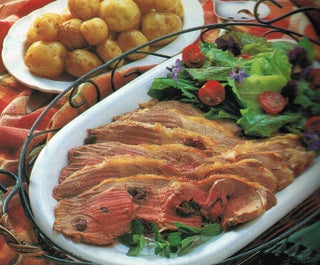 This butterfly leg of lamb is spiked with sun-dried tomato, olives and oregano, marinated in wine, and roasted until medium-rare makes lamb deliciously special.
Ingredients
20 sun-dried or semi-dried tomatoes, halved
½ cup white wine
1 tsp sugar
1 butterfly leg of lamb
10 stoned black olives, halved
fresh oregano or sage
freshly ground black pepper
garlic salt
Method
Soak the sun-dried tomatoes and white wine in a small bowl for 10 minutes. Drain the tomatoes and reserve the wine. Mix the wine with the sugar and set aside.
Place the lamb skin side down on a large board. Using a sharp knife make 20 incisions evenly over the lamb. Take a halved tomato and place half an olive in the centre and a few sprigs of oregano or a small sage leaf. Push this into one of the incisions. Repeat with remaining tomatoes, olives and herbs.
Place lamb in a dish and pour over the wine. Sprinkle heavily with ground black pepper and season with garlic salt. Stand in the refrigerator overnight or if short of time 1-2 hours.
Place on a rack in a roasting dish. Roast at 190ºC for about 45-50 minutes. Stand 10 minutes before carving.
To Barbecue
Place the prepared and marinated lamb on the grill of a very hot barbecue. Allow the meat to seal, about 10 minutes, before turning over to seal the other side. Lower the lid on the barbecue and continue cooking, turning occasionally for 40-45 minutes.
Cooks Tips
- Collect the juice from the pan and blend with a can of savoury tomatoes to accompany the meat.
- Ask the butcher at your local supermarket to bone-out a leg of lamb into a Butterfly Leg for this recipe.