Add to Cookbook

Mediterranean leg of lamb
30 minutes
in the slow cooker low 7-8 hours, high 4-5 hours
10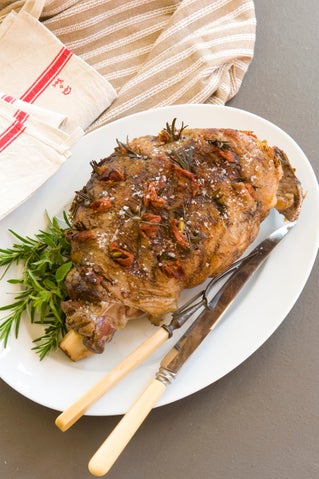 The original version of this recipe is one of my husband's favourites. It was done with a boned, butterflied leg of lamb and cooked on the barbecue, turned slowly to ensure an even, well-browned outside and tender pink inside so that, when carved, the lamb is sensational. This slow-cooker version is equally scrumptious.
Ingredients
1 full leg of lamb
4-6 cloves garlic, crushed and peeled
½ cup fresh oregano or marjoram leaves
¼ cup fresh rosemary leaves
12-18 sun-dried tomato halves in oil, well drained
2 teaspoons sugar
¾ cup white or rose wine
to finish, optional
4 large juicy tomatoes, quartered
400 gram can chickpeas, well drained, optional
1 cup black olives
4 artichoke hearts, quartered
¼ cup fresh oregano leaves
Method
Turn the slow cooker on to low to pre-warm while gathering and preparing the ingredients.
Use a sharp, long, thin-bladed knife to make 12-18 deep slits all over the lamb.
Slice each garlic clove in three. Wrap a slice of garlic and a few leaves or oregano or marjoram and rosemary in a sun-dried tomato half and push into one of the deep cuts. Repeat with the remaining ingredients.
Heat a dash of oil in a frying pan and brown the lamb well.
Into the pre-warmed slow cooker put the lamb. Sprinkle over the sugar and pour the wine around the lamb. Cover with the lid.
Cook on low for 7-8 hours or on high for 4-5 hours, or until the lamb is cooked.
The lamb can be enjoyed as is at this time with the juices that have collected from the cooking, or finished with the remaining ingredients, remove the lamb to a warm plate, cover and leave to rest. Add the tomatoes, chickpeas if using, olives, artichoke hearts and oregano. Cover and cook on high for 20-30 minutes. Season with salt and pepper.
Transfer the lamb to a large meat platter and cover. Allow to rest for 20 minutes before carving. Sprinkle with flaky salt if wished.
Cooks Tips
- Allow sufficent resting time to ensure the lamb is juicy and moist when carved. Use a thin-bladed, very sharp carving knife to cut thin slices, as thick slices (of any roast meat) can seem tougher than they are. - After carving the leg of lamb, the bone can be used to make soup. Add to a stockpot of water with onion, carrot, celery and one packet of dried flavoured soup mix. Any meat remaining on the bones will fall off into the soup.