Add to Cookbook

Maple Syrup Salted Butter Caramel Popcorn
5 minutes
10 -15 minutes
6-8 cups popcorn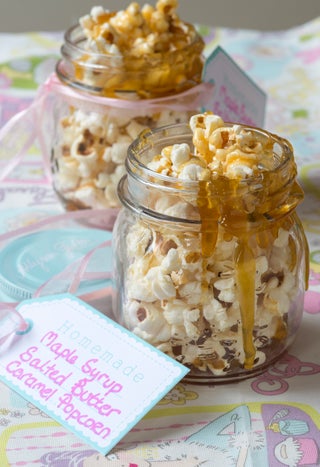 Flavoured popcorn is easy to make at home. It will taste far better than the shop bought ready to pop versions and it's fun for the kids to make. This deliciously sticky recipe is ideal for birthday parties.
Ingredients
1 tablespoon oil
1 cup popping corn
Maple Syrup Salted Butter Caramel
1 cup maple-flavoured syrup
1 cup sugar
2 tablespoons glucose
75 grams butter
Method
Heat the oil in a large non-stick saucepan. When very hot, add the popcorn and toss. Cover and continue to move gently over the heat below (this will prevent the popcorn from burning) and wait for the popping to start. Kids love this part! When the popping begins to lessen, remove from the heat, carefully open the lid and transfer the popped corn to a large bowl.
In a medium-sized saucepan stir the maple syrup, sugar and glucose over a moderate heat until the sugar dissolves. Bring to the boil and boil rapidly until the mixture reaches 150°C on a sugar thermometer, also known as hard crack stage (see notes). Remove from the heat and stir in the butter.
Drizzle all over the popcorn and toss to coat. Serve in bowls, jars or moulded into balls and tied with ribbons.
Cooks Tips
Use standard creamery butter for this recipe as it is salted .
Maple syrup is both delicious and expensive, so use maple flavoured syrup for this recipe. When buying maple syrup, the price will easily tell you the difference between the real McCoy and the flavoured syrup.
Non-stick saucepans are ideal for making this Maple Syrup Salted Caramel as the toffee easily comes away from the surface of the saucepan.
If you do not have a sugar thermometer, boil the syrup for 3 minutes- remove from heat. Drop a little into a glass of cold water. If the toffee is malleable, then it has not reached the hard crack stage. Return to the heat and test again after a further minute of cooking time. Hard crack stage is where a small amount of syrup dropped into a glass of cold water will immediately crack forming hard toffee.
Look for the Allyson Gofton sugar thermometer in the baking section at The Warehouse.