Add to Cookbook

Maple Syrup And Rum Seared Duck Breast Served With A Tropical Hot And Sour Salsa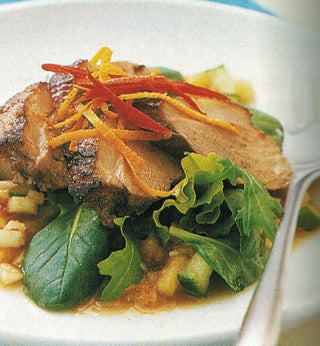 Last year's visit to Bali provided the inspiration for this dish. Tamarind and fish paste are essential flavouring elements in Balinese cookery and this salsa was a winner with our class. I have amended it a little to be not so pungent, but its refreshing flavours are wonderful with duck, which is often very rich. If you cannot buy duck easily, use chicken breast or lean pork steaks.
Ingredients
4 duck breasts
¼ cup maple syrup
¼ cup olive oil
2-4 cup olive oil
grated rind and juice one orange
grated rind one lemon or lime
1 tblsp grated fresh ginger
½ nutmeg, grated
½ tsp ground allspice
½ tsp freshly ground pepper
Tropical Hot and Sour Salsa
3 tablespoons tamarind pulp
3 tablespoons water
2 red chillies, chopped
1 teaspoon fish paste, roasted
4-6 tablespoons muscovado or grated palm sugar
grated rind of one lime
½ pineapple, finely chopped
½ telegraph cucumber, finely chopped
1 apple, finely chopped
Method
Make three deep slashes in the skin side of each duck breast.
Mix together the maple syrup, olive oil, rum, orange rind and juice, lemon or lime rind, ginger, nutmeg, allspice and pepper. Place in a resealable bag with the duck breast. Massage to coat evenly, seal and refrigerate for 4 hours or overnight.
Heat the barbecue until very hot and place the duck skin side down on the barbecue. Cook 3-4 minutes then turn and cook a further 3 minutes. This will cook the duck to rare. For medium, cook a further minute each side. Alternatively pan fry on both sides in a hot oven-proof frying pan and then transfer to a 200 degrees Celsius oven for about 8 minutes. Rest 3 minutes before carving.
Serve with rocket or salad greens on the Tropical Hot and Sour Salsa.
Tropical hot and sour salsa
Mix the tamarind pulp with the water to make a chunky, murky mix. Remove any largish pieces of seed or fibre. Mix in the chillies, fish paste, sugar, lime rind, pineapple, cucumber and apple and season well with salt.
Cooks Tips
- If you do not have maple syrup, use 2 tablespoons golden or apple syrup in its place. - Fish paste is very pungent and so you require only a little. Wrap it up in foil and hold it with tongs over a flame or place it in a frying pan and cook for about 30 seconds to 1 minute until you can smell it. Do not burn the paste, though. This will give you a subtle, less-raw flavour that is essential here. - As the chillies are not deseeded, and depending upon the type used, this can be a very hot salsa. If nervous, deseed the chillies.