Add to Cookbook

Lemon shortbread
10 minutes, chill time: 30 minutes
30 minutes
Makes 20-24 pieces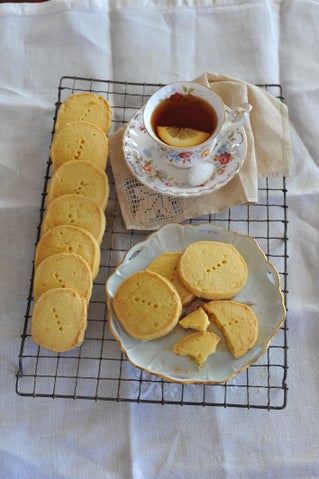 Bridget's shortbread recipe was a huge hit on the day we visited. Made with their own ground organic cornflour, it has a gentle lemony flavour, wrapped up in a very short, buttery shortbread that's not too sweet and was well cooked. Delicious!
Ingredients
250 grams butter, chilled and grated
¾ cup icing sugar
1 teaspoon grated lemon rind
2 cups cornflour
Method
Preheat the oven to 150ºC. Dust two baking trays with cornflour.
In a food processor, process the butter, icing sugar and lemon rind until creamy. Pulse in the cornflour, then refrigerate the dough for 15-20 minutes, the dough will become firmer and easier to handle.
Turn the mixture onto a lightly floured table or bench and form into a log, about 3-4cm in diameter. Wrap in baking paper or greaseproof paper and refrigerate for at least 15 minutes or overnight.
Cut into 1-cm thick slices and place on the prepared trays. Prick each slice with the tines of a fork.
Bake in the preheated oven for 25-30 minutes until pale and slightly firm to the touch. Leave to cool on the tray - they are very soft at this stage - before transferring to a cake rack to cool completely. Store in an airtight container.
Cooks Tips
- Bridget says the trick to a well-cooked shortbread is to bake at a lower temperature for a longer time, but just watch that it doesn't over-cook. - Cornflour will give a very 'short' shortbread, so you may wish to use 1 cup flour and 1 cup cornflour. - Remove ¼ cup cornflour and replace with ¼ cup riceflour for a slightly grainy texture.