Add to Cookbook

Lemon Polenta Cake
20 minutes
1 - 1 1/4 hours
1/2 hours
5 hours
8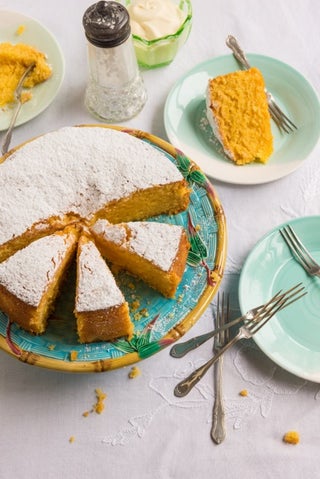 This polenta cake with its deep yellow crumb and moist texture is best served simply with a whipped cream and accompanied with fruits such as raspberries or poached rhubarb or apricots. I added a touch of flour to give the crumb a stronger texture, but for those wanting a totally gluten free cake recipe, replace the flour with additional ground almonds. The secret to the cake's light texture is to be sure to whip the butter and sugar together well.
Ingredients
250 grams butter, at room temperature
1 cup caster sugar
3 eggs, at room temperature (I use size 7)
1/3 cup lemon juice
1 tablespoon orange blossom water, optional
Grated rind 2 large lemons
2 ¼ cups ground almonds
1 scant cup polenta (use fine milled)
¼ cup flour, sifted or use ground almonds
Method
Preheat the oven to 180 °C. Grease the base and sides of a 20cm cake tin and line with baking paper. Set the oven rack just below centre.
Beat the butter and sugar together until the mixture has almost doubled in bulk, is well-whipped and a pale creamy colour.
Beat the eggs together and gradually add to the creamed butter mixture a little at a time, beating well after each addition. Beat in the lemon juice and orange blossom water if using.
Fold in the ground almonds, semolina and flour. Transfer to the prepared cake tin and level off.
Bake in the preheated oven for 1 – 1¼ hours or until a skewer inserted into the centre come out clean. Cool in the cake tin for 15 minutes before turning out onto a cake rack to cool. Sift icing sugar generously on top before serving.