Add to Cookbook

Lemon Meringue Ice Cream Trifle
10 minutes
15 minutes, chill time: 2-3 hours, freeze time: overnight
8-10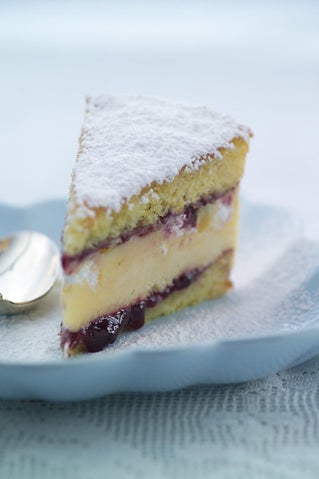 This frozen version with limoncello soaked sponge, layered with blueberry jam and sandwiching a velvet smooth frozen meringue custard, is perfect for entertaining as it can be made 2-3 days in advance. Keep this recipe tucked away for Christmas Day.
Ingredients
½ cup milk
1½ cups cream
4 egg yolks
½ cup caster sugar
2 tsp finely grated lemon rind
¼ cup freshly squeezed lemon juice
1 tblsp cornflour
6 ready made meringues, roughly broken
Trifle
1 single pre-made 20-cm sponge
¼ cup limoncello or fruit juice
¼-½ cup blueberry or raspberry jam
Method
Heat the milk and cream in a saucepan until very hot.
Beat the egg yolks, sugar, lemon rind and juice, and cornflour together to form a smooth paste. Stirring quickly, pour into the hot cream and cook over a low heat, stirring constantly until the custard thickens. Do not allow the custard to boil.
Pour into a lidded container and allow to cool to room temperature. Cover and freeze for 3-4 hours or until the ice cream is starting to freeze around the edges, beat with a wire whisk. Cover and freeze for a further 2-3 hours, beat again and then gently mix in the broken meringue pieces. Cover and freeze until almost firm. Alternatively if you have an icecream machine, once the custard is cool, churn, following the manufacturers instructions to make icecream. Fold in the broken pieces of meringue by hand.
Line the base and sides of a 20cm springform tin with baking paper. Put one sponge cake in the base, sprinkle with 2 tablespoons of limoncello and spread with 2 tblsp blueberry jam. Cover with slightly softened lemon meringue ice cream. Spread the remaining sponge with blueberry jam, place on top of the ice cream and drizzle the limoncello over the sponge topping. Cover well with plastic wrap and freeze overnight.
Soften the ice cream trifle in the refrigerator for 30-45 minutes before serving. Dust with icing sugar and cut into wedges.
Cooks Tips
- If you do not have Limoncello, use an orange liqueur or a sweet Sherry.
- If buying a bought sponge to use for this you will only need one single sponge split in half. Freeze the other sponge for later use.