Add to Cookbook

Lemon and poppy seed loaf
45 minutes includes cooling
1 hour
Makes 1 loaf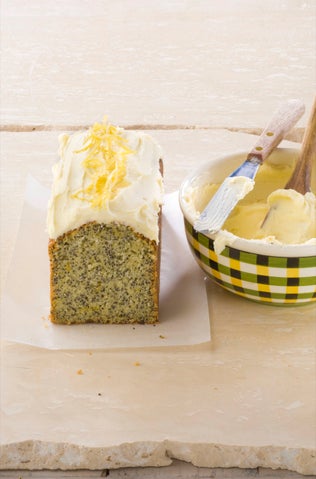 Poppy seeds are more often seen atop bread, but they are delicious in sweet baking, espeically when married with lemon.
Ingredients
¾ cup milk
½ cup poppy seeds
150 grams butter, softened
¾ cup sugar
2 eggs
1¾ cups flour
1 teaspoon baking powder
1 teaspoon baking soda
2 teaspoons grated lemon rind
¼ cup freshly squeezed lemon juice
rich lemon butter icing
75 grams butter, softened
¾ cup icing sugar, sifted
1 teaspoon grated lemon rind
2-3 teaspoons freshly squeezed lemon juice
Method
Heat the milk in a small saucepan and when hot but not boiling, stir in the poppy seeds. Set aside to cool for 30 minutes.
Preheat the oven to 180ºC. Grease and line a small 18cm x 8cm loaf tin with baking paper.
In a medium-sized boal, beat the butter and sugar until light and creamy. Add the eggs one at a time, beating well after each addition.
Sift the flour with the baking powder and baking soda and fold into the creamed mixture alternately with the poppy seeds and milk, lemon rind and juice.
Turn into the prepared loaf tin.
Bake in the preheated oven for 1 hour or until a skewer inserted comes out clean. Allow the loaf to stand for 10 minutes before turning out onto a cake rack to cool.
Ice with rich lemon butter icing when cold and decorate with extra grated lemon rind, if wished.
rich lemon butter icing
Beat the butter and icing sugar together until smooth and pale in colour. Add the lemon rind and enough juice to make a smooth icing of spreadable consistency.
Cooks Tips
- Sifting icing sugar ensures your icing has no nasty lumps when made. - Poppy seeds contain a high amount of oil and therefore are prone to becoming rancid if stored in a warm kitchen. Buy as needed and keep in a cool place away from direct sunlight.