Add to Cookbook

Lemon And Cinnamon Creme Brulee
10 minutes
40 minutes
Overnight
6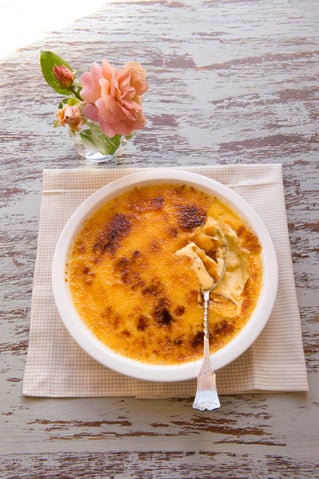 Not quite a classic recipe, just a little less rich but still with that stained glass looking toffee crusted top. This is an adaptation from the recipe taught to me at Leith's Cookery School in London. Serve with your favourite seasonal fruits.
Ingredients
2½ cups cream
2 teaspoons vanilla essence
¼ teaspoon ground cinnamon or 1 cinnamon stick
2 whole eggs
6 egg yolks
¼ cup caster sugar
½-1 grated rind of a lemon
¼-½ cup extra caster sugar
Method
Preheat the oven to 170ºC. Place the oven rack in the centre of the oven and place an oven tray on top.
Bring the cream, vanilla essence and cinnamon to scalding point in a saucepan. Remove the cinnamon stick if using.
In a separate bowl beat the eggs, egg yolks and sugar together until well blended.
Take about ½ cup of hot cream and stir quickly into the beaten egg mixture before pouring the egg mixture into all the cream in the saucepan. Doing this prevents any scrambling of the eggs.
Place the saucepan over a low heat and with a wooden spoon stir constantly until the custard is thick enough to coat the back of the spoon.
To check this, lift the wooden spoon from the custard and turnover. Run your finger down the centre of the spoon and if the channel remains the custard has cooked enough.
Remove from the heat, stir in the lemon rind and pour into a 4 cup capacity shallow pie or baking dish.
Carefully transfer the dish to the oven, placing on the preheated oven tray.
Bake for 8-10 minutes, only long enough to achieve a skin on top. Remove from the oven, being very careful not to break the skin.
Cool and then refrigerate overnight. Do not break the skin.
Place the custard under the grill and watch with hawk eyes while the sugar melts and caramelises. You may need to turn the custard around the skin to achieve an even glaze.
Cool completely before serving, crashing through the toffee to reveal the velvet custard underneath.
Cooks Tips
- Scalding point is just below boiling. Bubbles will rise to the surface of the cream but not burst. - Use 2 vanilla pods in place of vanilla essence. Split the pods in half and scrape out the seeds. Add seeds and pods to the cream. Remove the pods before adding to the eggs. - Wash the milk encrusted vanilla pods dry on the window sill. Use to flavour sugar. - if wished use a mini gas cook's blow torch to caramalise the sugar. They are available at hardware or cook's shops.
for the kids
- This rich, sweet pud might be a bit heavy going for kids. Have a jug of good-old packet custard with fruit and/or icecream ready for the younger guests. It will be just as popular.