Add to Cookbook

Lancashire lamb hot pot
30 minutes
in the slow cooker low 7-8 hours, high 4-5 hours
8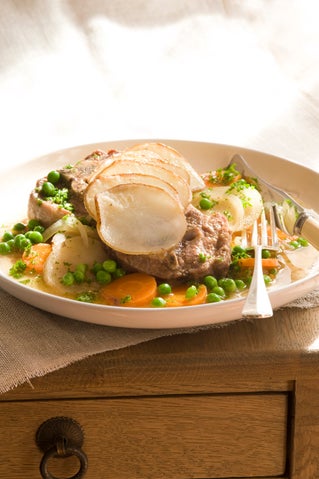 This working man's family meal originated in northern England during a time when families would bake their own bread in a farmhouse brick oven. Once the bread was cooked, the stews were put in and left to simmer slowly until day's end. In those days the meat was mutton or hogget, and the dish contained oysters. Today we use lamb and, well, the oysters I think would be best served another time, but for a touch of times past, scatter 10-12 fresh oysters until the potto top before serving.
Ingredients
1 kilogram lamb neck chops, well trimmed
50 grams butter, softened
1 kilogram waxy potatoes, wash and thinly sliced
5-6 carrots, peeled and thinly sliced
2 onions, peeled and thinly sliced
3 stalks celery, sliced
1-2 leeks, trimmed, washed and finely sliced
2 teaspoons dried mixed herbs
4 cups light-flavoured beef stock or water
Method
Turn the slow cooker on to low to pre-warm while gathering and preparing the ingredients.
Brown the lamb in a dash of oil or knob of butter in a hot frying-pan. Do not crowd the pan, as the lamb will stew.
Spread half the butter over base of the pre-warmed slow cooker. Layer half the potatoes evenly over the base of the hot.
Layer the lamb, carrots, onions, celery and leeks on top of the potatoes. Sprinkle over the dried mixed herbs.
Layer the remaining potato slices on top, ensuring that the top layer is nicely arranged. Season liberally with salt and pepper.
Pour in the stock or water and place a piece of baking paper on top. This will prevent the potatoes from discolouring. Cover with the lid.
Cook on low for 7-8 hours or on high for 4-5 hours, or until the meat and vegetables are tender. Preheat the grill to 220ºC.
Remove the paper. Brush the top potato layer liberally with the remianing butter. Lift the crockery insert from the slow cooker and place under the preheated grill until the potatoes are golden
Serve with vegetables - peas are a classic partner.
Cooks Tips
Variations - Use 2 teaspoons chopped fresh rosemary in place of the dried herbs. - Omit the herbs and serve with classic mint sauce. - Add a packet of soup mix, such as onion, French onion or spring vegetable, to boost the flavour. - Add 250 grams sliced mushrooms. - Cut the meat from the neck chops if wished and discard the bones or use the bones to make stock. I like to cook the dish on the bone as they add flavour. Alternatively, use 750 grams lean lamb cut into 3-4 cm sized pieces.