Add to Cookbook

Lamb with harissa
without browning 35-40 minutes, with browning 40-45 minutes
in the slow cooker low 5-7 hours, high 3-4 hours, plus extra 20-30 minutes
8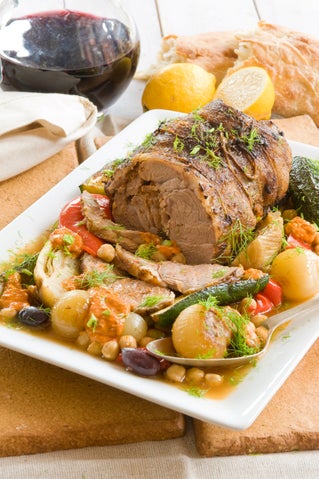 Red hot chilli, warm caraway and refreshing fennel spice up this exotic lamb recipe that's best served with piles of couscous drenched with olive oil and seasoned with lemon and salt. Alternatively, mash potatoes with olive oil and season with salt and pepper.
Ingredients
1.25-1.5 kilogram boned shoulder of lamb
2 tablespoons roast garlic red harissa (see recipe on our website)
¼ cup olive oil
2 red capsicums, cored and quartered
2 bulbs fennel, quartered lengthwise
8 baby onions, peeled
2 teaspoons minced garlic
1½ cups chicken stock or water
300 gram can chickpeas in brine, well drained
½-1 cup black olives, marinated olives are nice here
2 tablespoons coarsley chopped fennel fronds
Method
Turn the slow cooker on to low to pre-warm while gathering and preparing the ingredients.
Place the lamb skin-side down on a chopping board and spread the harissa over the centre of the meat. Roll the boned shoulder up and tie with string to securely enclose the harissa. Alternatively, use skewers to hold together.
If wishing to brown the lamb, heat the oil in a frying-pan and, when hot, brown the lamb very well on all sides.
Into the pre-warmed slow cooker scatter the capsicums, fennel and onions. Sit the lamb shoulder on top. Pour in oil (if the lamb was bronwed, add it from the frying-pan).
Mix the garlic with the stock or water and pour around the lamb. Cover with the lid.
Cook on low for 5-7 hours, or on high for 3-4 hours.
Carefully lift the lamb from the slow cooker and place on a deep serving platter. Cover and keep warm.
Stir in the chickpeas, black olives and fennel fronds and season the mix with salt and pepper. Cover with the lid and cook on high for 20-30 minutes until the mixture is piping hot.
Serve the lamb sliced with a generous serving of the braised vegetables, juice and fresh green vegetables such as grilled courgettes.
Have extra harissa on hand to serve with the lamb for those who would like a extra spoonful of the spicy paste.