Add to Cookbook

Lamb vindaloo
30 minutes
in the slow cooker low 8-9 hours, high 4-5 hours
8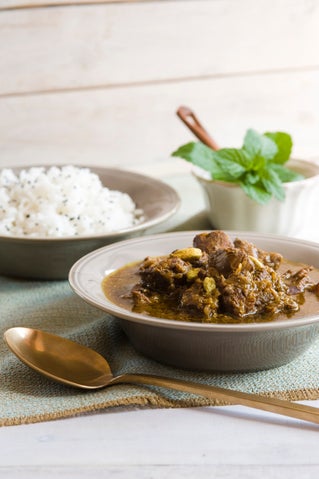 This gutsy vindaloo is not too fiery, so feel free to add more chillies if you like hot stuff.
Ingredients
1.5 kilograms bonelesss lean lamb or hogget for casseroling
Vindaloo paste
2 teaspoons cumin seeds
2 dried chillies
1 teaspoon black peppercorns
1 teaspoon cardamom seeds
1 cinnamon stick
2 teaspoons mustard seeds
1 teaspoon fenugreek seeds
¼ cup wine vinegar
1 teaspoon brown sugar
½ teaspoon salt
2 onions, peeled and sliced
1 tablespoon minced ginger
1 tablespoon minced garlic
1 teaspoon ground turmeric
2 cups beef stock
Method
Turn the slow cooker on to low to pre-warm while gathering and preparing the ingredients.
Cut the lamb into 3-cm sized pieces and set aside.
To prepare the vindaloo paste, grind the cumin seeds, chillies, peppercorns, cardamom seeds, cinnamon stick, mustard seeds and fenugreek seeds in a coffee mill or spice grinder until fine.
Mix the ground spices with the vinegar, sugar and salt.
Heat a good dash of oil in a frying pan and cook the onions over a moderately high heat until they are well browned and crispy, but not burnt. Allow about 15 minutes.
Place the onions in a food processor with the spice paste and process until fine.
Into the pre-warmed slow cooker put the spicy onion puree with the ginger, garlic, turmeric and stock, and stir well.
Place the lamb into the slow cooker and stir to mix with spice paste as evenly as possible. Cover with the lid.
Cook on low for 8-9 hours or on high for 4-5 hours.
Serve with rice spiked with nigella seeds, and crispy poppadoms.
Cooks Tips
Variation: - Use beef in place of lamb. - Use 1x 400 gram can chopped tomatoes in place of 1 cup beef to add a sweeter flavour. Nigella seeds are a relative to the decorative plant love-in-a-mist. The little black seeds have a nutty, peppery flavour that works well with starchy foods such as rice, bread and potatoes. For low-fat poppadoms, cook them in the microwave. Cook 2-3 at a time, allowing approximately 1 minute on high power (100%) until crispy.