Add to Cookbook

Lamb shoulder chops in port wine jelly gravy
without browning 15 minutes, with browning 25 minutes
in the slow cooker low 5-7 hours, high 3-4 hours
6-8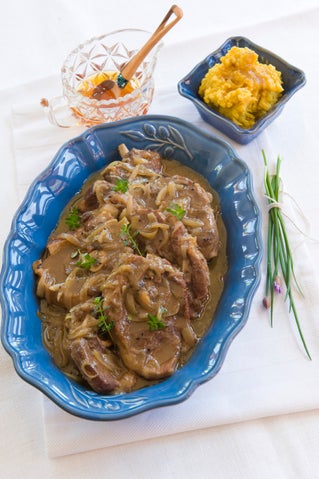 A quick 'n' tasty mid-week family meal.
Ingredients
1-1.25 kilograms lamb shoulder chops
2 onions, peeled and thinly sliced
2 tablespoons flour
1 cup beef stock
¼-½ cup port wine jelly, warmed
1 tablespoon finely chopped fresh thyme, optional
1 teaspoon cracked black pepper
Method
Turn the slow cooker on to low to pre-warm while gathering and preparing the ingredients.
Trim any excess fat from the lamb chops. Season well with salt and pepper.
If wishing to brown the lamb, heat a dash of oil in a large frying-pan and, when hot, cook the lamb until well-browned.
Into the pre-warmed slow cooker layer the lamb and onion.s.
Mix together the flour, stock, jelly, thyme if using and pepper to make a smooth sauce. Pour over the lamb and onions and cover with the lid.
Cook on low for 5-7 hours or on high for 3-4 hours, or until the lamb is tender.
Pile into a serving dish and accompany with your favourite greens and mashed kumara - spiked with honey and grated orange rind delicious. Garnish with fresh thyme if wished.
Cooks Tips
Variations: - Use blackcurrant or redcurrant jelly in place of port wine jelly. - Use sliced cross-cut beef blade steaks in place of lamb shoulder chops. - In place of flour, use a favourite packet of soup mix, like onion, or use instant gravy powder. - Use red onions or leeks in place of onions, or add more vegetables like sliced carrots, aprsnips, swedes and so on.