Add to Cookbook

Lamb Racks With Spiced Peanut And Lime Crust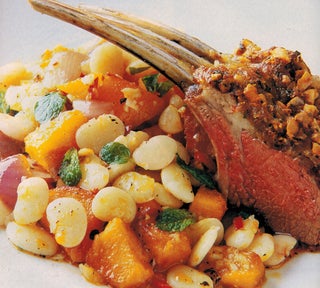 Tender lamb racks, marinated with sweet spices and lime rind are delicious cooked on the BBQ or in a hot oven.
Ingredients
½ cup blanched peanuts
1 clove garlic, crushed and peeled
2 tblsp finely chopped oregano
1 tsp annatto powder (see Cook's Tips)
½ tsp salt
½ tsp ground allspice
½ tsp chilli powder
½ tsp black pepper
1 lime (grated rind and juice)
½ cup grated mozzarella cheese
2 racks lamb, each with 8 cutlets (see Cook's Tips)
mint leaves for garnishing
Method
Put the peanuts, garlic, oregano, annatto powder, salt, allspice, chilli powder, black pepper and lime rind into a blender or food processor and process until finely chopped.
Pulse in the cheese.
Trim the lamb racks, removing any sliver skin and clean the bones thoroughly.
Press half the mixture firmly onto the meaty side of each lamb rack.
Bake at 200 degree Celsius, towards the top of the oven, for 20-25 minutes. Stand for 5-7 minutes, before carving and serving with the Warm Roast Pumpkin and Lima Bean Salad, (see Salad Recipes), garnish with mint leaves.
Cooks Tips
- Annatto powder is ground achiote seeds, native to South America. The powder gives and earthy flavour to the dishes it is used with as well as a vibrant colour. There is no substitute and so if you cannot find any, just omit it from the recipes.
- Have the lamb racks well-trimmed to the meaty fillets and ensure that the silver skin has been removed as this will twist and buckle during cooking.