Add to Cookbook

Lamb pomegranate pizza with aubergine salsa
30-35 minutes
10 minutes
4-6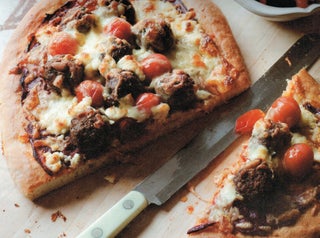 Add a zesty tang to your next pizza with this Turkish-inspired idea.
Ingredients
250 grams lamb mince
2 tablespoons pine nuts
1 teaspoon ground cumin
½ teaspoon ground coriander
2 tablespoons chopped fresh mint
2-3 tablespoons pomegranate syrup
2 large pizza bases
¼ cup tomato paste
100 grams cherry tomatoes
½ cup crumbled feta
1 cup grated mozzarella cheese
Aubergine Salsa
1 cup diced char-grilled aubergine
2 large juicy tomatoes, chopped
¼ cup chopped fresh mint
¼ red onion, finely chopped
2 tablespoons pomegranate syrup
Method
Preheat the oven to 220ºC. Grease 2 baking trays.
Mix together the mince, pine nuts, cumin, coriander, mint and pomegranate syrup. Season well with salt and pepper. Roll into 20 small balls. Set aside.
Place the pizza bases on the prepared trays. Spread each evenly with half the tomato paste. Divide the meatballs, cherry tomatoes, feta and grated mozzarella evenly on top of the pizzas.
Bake one pizza at a time at the top of the preheated oven for about 10 minutes until well browned. Cook the second pizza. Garnish with some additional chopped mint and serve hot with the Aubergine Salsa if wished.
Aubergine salsa
Toss all the ingredients together and allow to marinate while the pizzas are cooking.
Cooks Tips
- Chargrilled aubergines can be bought at the deli counter. To make them yourself, brush thick slices of aubergine liberally with oil and panfry in a hot pan for 2-3 minutes each side until well browned.