Add to Cookbook

Lamb korma curry
30 minutes
in the slow cooker low 5-7 hours, high 3-4 hours
6-8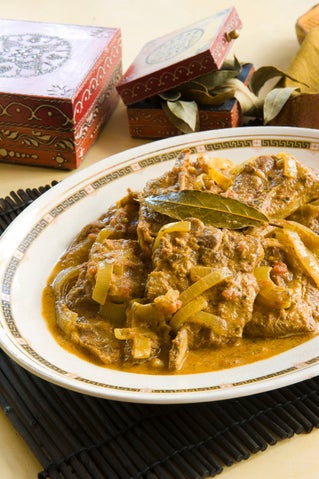 Some years ago, I had the pleasure of travelling through southern India on a media tour with Meena Patak, once owner of the celebrated Patak food company. It was an opportunity to experience an India that did not feature in travel magazines. We went off the beaten track to spend time making poppadoms, literally by hand, picking and drying spices, learning the art of Ayurvedic massage and cooking and sipping the very alcoholic and dangerous drink, toddy, in the rice paddy fields with the locals. We really experienced the total colourful gloriousness that is India. Korma curry was a hot favourite on that tour and this recipe is truly delicious.
Ingredients
8 lamb shoulder chops
2 large onions, peeled and thickly sliced
400 gram can diced tomatoes in juice
½ cup of yur favourite korma curry paste
8 cardamom pods, crushed
2 tablespoons chopped fresh coriander
½ cup water
1 bay leaf
1 cup cream
¼-½ cup unsweetened plain yoghurt
Method
Turn the slow cooker on to pre-warm while gathering and preparing the ingredients.
Trim the lamb chops of any excess fat and season well with salt and pepper.
Heat a dash of oil in the frying-pan and, when very hot, brown the lamb chops on both sides. Do not overcrowd the pan or the chops will stew rather than brown.
Into the pre-warmed slow cooker layer the lamb shoulder chops and onions. In a jug, mix together the tomatoes, curry paste, cardamom pods, coriander and water. Pour over the chops and turn to coat. Sit the bay leaf on top and cover with the lid.
Cook on low for 5-7 hours or on high for 3-4 hours, or until the lamb is tender.
Lift the lamb from the slow cooker. Stir the cream and yoghurt into the spiced tomato sauce. Return the lamb chops to the slow cooker and turn to coat in the sauce.
Serve with pilaf or boiled rice.
Cooks Tips
Variations: - Use 8 chicken leg and thigh portions in place of lamb. - Beef can also be used - allow about 1.5 kilograms boneless meat, cut into chunky. Lamb shoulder chops can be easily cut in half lengthwise. This makes handling the chops easier and allows more choice for the serving sizes. Cardamom has a warm, pleasant camphor and eucalyptus note, which complements curries very well. It is also a delight added to boiled or pilaf rice for both sweet and savoury rice dishes. Crush 2-3 pods per2 cups of rice for a rice with panache.