Add to Cookbook

Lamb braise with prunes and oranges
20 minutes, marinating time - overnight
3 hours
4-6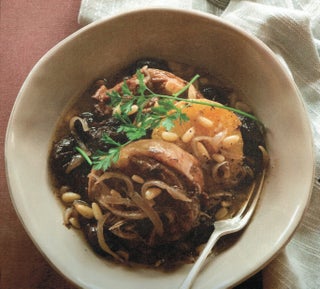 While it is not essential to brown the chops, if done, the dish will have a richer flavour and deeper colour.
Ingredients
500-750 grams lamb shoulder chops
2 onions, peeled and finely sliced
2 teaspoons sugar
1 teaspoon dried mint
1 teaspoon ground cinnamon
½ teaspoon black pepper
¼ cup oil
1 cup prunes
2 oranges, peeled and sliced
¼ cup pine or pistachio nuts
½ cup black olives (optional)
Method
Put the lamb, onion slices, sugar, mint, cinnamon, pepper and oil in a sealable bag and refrigerate overnight to marinate.
Preheat the oven to 140ºC.
Brown the lamb chops in a hot frying pan, reserving the marinade. Transfer to a casserole. Add the marinade ingredients along with the prunes, orange slices, pine or pistachio nuts and olives if using. Cover.
Bake in the preheated oven for 3 hours or until the meat falls from the bone. Serve garnished with fresh mint or parsley and accompanied with steamed greens.