Add to Cookbook

Lamb and chilli tagine
15 minutes
25 minutes, resting time 10-15 minutes
4-6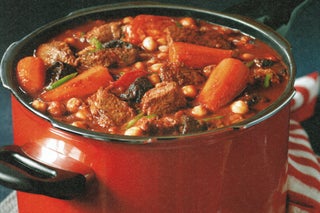 Ingredients
1½ cups dried chickpeas
750 grams lean diced lamb (or use shoulder chops)
1½ tablespoons each ground cumin and paprika
1½ teaspoons ground ginger
1 teaspoon chilli powder
1 teaspoon salt
3 green long chillis, deseeded and finely chopped
4 cups vegetable or beef stock
400 grams can chopped tomatoes in juice
4 carrots, peeled and quartered
½ cup coarsley chopped prunes or dried apricots
Method
Soak chickpeas in cold water, preferable for 12-16 hours while at work or overnight. Use 3-4 times the amount of water to chickpeas.
Heat a dash of oil in the pressure cooker and brown the lamb in batches, on all sides. Add the well-drained chickpeas, spices, salt, chilli, stock, tomatoes, carrots and prunes or apricots.
Close and lock the lid. Bring to high pressure over a high heat. Reduce head to stabilise pressure on high and cook for 25 minutes.
Turn the heat off and leave the pressure cooker to stand for 10-15 minutes until the cooking indicator has completely sunk back. Shake to remove any steam bubbles before removing the lid. Serve with couscous or potatoes and a winter green vegetable.