Add to Cookbook

Kiwifruit and white chocolate ice cream
20 minutes, freeze time: overnight
Makes 1 litre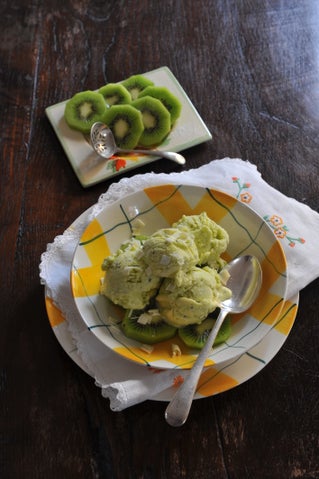 Enjoy this ice cream with slices of kiwifruit that have been lightly sprinkled with caster sugar and allowed to sit for a short while so the sugar melts.
Ingredients
6 egg yolks
1 cup caster sugar
2 cups cream
1 cup mashed kiwifruit pulp
few drops green food colouring, optional
½ cup coarsley grated white chocolate
Method
In a bowl blend the egg yolks with half the caster sugar, then whisk until very light and thick.
Stir the remaining sugar into the cream and, either in a saucepan or in the microwave, bring to scalding point. Slowly stir the hot cream into the egg yolks, being careful not to go too fast as you will scramble the eggs.
Place the mixture in the top of a double boiler saucepan or in a large heatproof bowl over a saucepan of simmering water and stir until the mixture thickens and coats the back of the spoon.
Remove from the heat and pour into a cool, clean bowl to arrest any further cooking. Cool, then refrigerate until cold.
Mix in the kiwifruit pulp, and if wished, colour with a little green food colouring. Freeze in an ice cream machine, following the manufacturer's instructions, adding the grated chocolate just at the end. Alternatively, pour into a large lidded freezer-proof container and freeze for at least 6 hours. Beat the mixture with a whisk or electric beater and add the chocolate before returning to the freezer. Repeat once more before freezing for good.
Cooks Tips
- The number of fruit required will vary depending on their size, but allow around 6-8. Peel, chop and mash. Do not process in a food processor as the crushed seeds will give the pulp a bitter taste. - Prepare the custard using 1¾ cups of cream and, when made, stir in ¼ cup Midori (melon liqueur) and proceed as above.