Add to Cookbook

Juniper pork with mushrooms and sage
40 minutes
in the slow cooker low 5-7 hours, high 3-4 hours, plus extra 30 minutes
6-8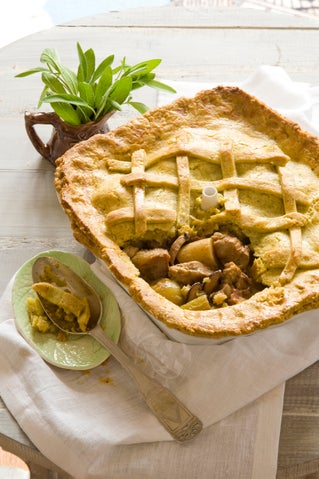 Crunch a handful of softly dried ebony-mauve juniper berries, and you'll be hit by the aromas of gin. After all, it is the Dutch name for this berry, jenever, that was adapted to give the alcohol its name. Its underlying piney resinous scent brings a freshness to pork and aids with the digestion of rich meats. It partners well with sage and mushrooms in this delicious pork casserole.
Ingredients
1 kilogram lean pork for casseroling
4-5 stalks celery, washed and trimmed
8-10 baby onions, peeled
4 rashers bacon, diced
12 baby potatoes, washed and quartered
100 grams fresh shiitake mushrooms, sliced
150 grams button mushrooms, sliced
¼ cup dried porcini mushrooms, optional
1 cup Madeira or a rich-tasting port
1 cup chicken stock
1 tablespoon juniper berries, crushed
1 tablespoon chopped fresh sage
1 teaspoon minced garlic
2-3 tablespoons beurre manie
Method
Turn the slow cooker on to low to pre-warm while gathering and preparing the ingredients.
Trim any fat from the pork and cut into 3-cm-sized pieces. Cut the celery into 3-4-cm lengths. Halve the onions if large.
Heat a good dash of oil or knob of clarified butter in a frying-pan and brown the pork pieces over a high heat. Do this in batches to avoid the meat from stewing. Brown the celery, onions and bacon if wished.
Into the pre-warmed slow cooker put the pork, celery, onions, bacon, potatoes, shiitake mushrooms, button mushrooms and porcini mushrooms if using.
In a jug, mix together the Madeira or port, stock, juniper berries, sage and garlic with a good seasoning of salt and pepper. Pour over the pork and stir to mix as well as possible. Cover with the lid.
Cook on low for 5-7 hours or on high for 3-4 hours, or until the pork is tender. Stir in 2-3 tablespoons beurre manie, cover and cook a further 30 minutes on high until the sauce has thickened.
Serve with your favourite seasonal vegetables or as a pie.
Beurre manie
A great way to thicken casseroles, sauces and soups. Work together twice the weight of soft butter to flour to make a smooth paste. Stir knobs into the hot casserole, cover and cook on high for 20-30 minutes to thicken the sauce and 'cook-out' the flour taste. The mixture melts its way into the casserole and the butter adds a velvety richness. Add beurre manie at the end of cooking time if thickening is required.
Cooks Tips
- Keep juniper berries in an airthight container away from heat and light. Use only berries that are juicy when squashed and crush just before using as, if left too long, their essential oils will evaporate. - When wanting baby onions to stay whole or not fall into leaves if cut in half for cooking. leave the core end intact when peeling.