Add to Cookbook

Italian tomato and olive chicken
20 minutes
in the slow cooker low 6-7 hours, high 4-5 hours, plus extra 15-20 minutes
6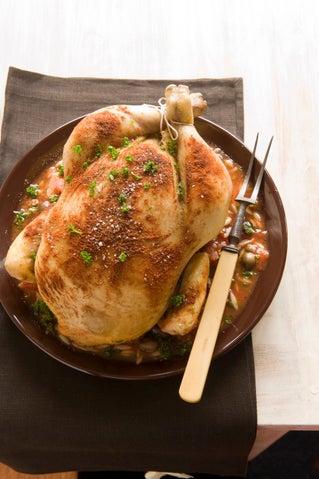 Loaded with gutsy flavours, a basket full of grilled, intensely flavoured garlic bread slices is all that is needed to accompany this dish.
Ingredients
1½ cups cooked orzo pasta
2 tablespoons chopped anchovies
1½ tablespoons minced garlic
1 tablespoon chopped capers
¼ cup chopped fresh parsley
¼ chopped pitted black olives
1.5-1.6 kilogram whole chicken
400 gram can chopped tomatoes in juice
½ cup whtie wine, chicken stock or water
about 1 teaspoon paprika, optional
Method
Turn the slow cooker on to low to pre-warm while gathering and preparing the ingredients.
Mix together the pasta, anchovies, garlic, capers, parsley and olives. Season well with pepper.
Rinse the chicken well and pat the cavity dry with absorbent paper towel.
Use a half to a third of the pasta mixture to stuff the chicken cavity firmly. Set the remaining mix aside in a lidded container in the fridge.
Tie the legs of the chicken together to secure the filling and ensure the chicken keeps a good shape when cooking. Tuck the wings underneath the chicken.
Pour the canned tomatoes and wine, stock or water into the pre-warmed slow cooker. Sit the chicken on top of the sauce and sprinkle withthe paprika if using. Cover with the lid.
Cook on low for 6-7 hours or on high for 4-5 hours before lifting the lid to see if the chicken is cooked.
Wiggle the end of the chicken's drumstick, if it moves freely the chicken is cooked. If not, cover and cook a further 30-45 minutes and test again.
Once cooked, carefully remove the chicken to a warm serving plate and cover.
Stir the reserved pasta stuffing mix into the hot sauce that has accumulated in the slow cooker. Cover with the lid and cook on high for 15-20 minutes to reheat the sauce. Season with pepper and add a little fresh parsley, or basil for a fresh herby flavour if wished.
Carve the chicken into chunky pies and accompany with a hearty serving of the stuffing and sauce.
Cooks Tips
Variations: - Use cooked rice in place of orzo pasta. - Use smoked paprika if wished for a smoky Spanish-inspired dish. - Add 2-3 tablespoons basil pesto to the sauce before serving. - Add 1 tablespoon chopped fresh rosemary to the pasta stuffing mix. - Use green olives in place of black. - Boiling ¾ cup dry orzo pasta in plenty of salted water will give you 1½ cups cooked. - The paprika will colour up the chicken, which would otherwise stay a cream colour when cooked in the slow cooker. Alternatively, brown in oil before cooking. - Do not be tempted to stuff the chicken and refrigerate overnight. This is a great way to get food bugs! And also, make sure the stuffing is cold when you fill the chicken cavity to prevent any food nasties.