Add to Cookbook

Italian lamb salad with roasted garlic aioli
40 minutes
15 minutes
4-5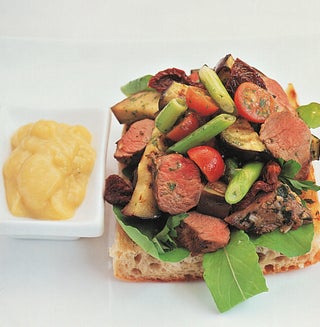 Chargrill the lamb fillets on the barbecue to add a gutsy flavour.
Ingredients
500 grams lamb fillets
¼ cup virgin olive oil
2 tablespoons chopped fresh oregano
2 teaspoons minced fresh garlic
1 teaspoon ground black pepper
1 eggplant, cut into finger-sized pieces
1 punnet cherry tomatoes, halved
4-5 spring onions, trimmed and chopped
10 sun-dried tomatoes, halved
½ cup good vinaigrette
½ cup basil leaves, finely chopped
Roasted garlic aioli
2 bulbs garlic
olive oil for drizzling
½ lemon, juice
½ cup virgin olive oil
Method
Put the lamb fillets, olive oil, oregano, garlic and black pepper in a snap lock bag or lidded container. Seal and toss well to ensure all the lamb fillets are well covered with the marinade. Cover and marinade for 30 minutes at room temperature.
Toss the eggplant pieces in plenty of olive oil and pan-fry in a hot frying pan or under a hot grill until they are well browned and softened. Place in a bowl with the cherry tomatoes, spring onions, sun-dried tomates, vinaigrette and basil leaves. Season with salt and pepper and toss well to combine. Set aside.
Heat a frying pan or grill pan and when hot add the lamb fillets and cook over a high heat turning to brown evenly. Cook for only 3-4 minutes until the fillets are medium-rare. Remove from the pan and stand 2-3 minutes before slicing thickly.
Toss the lamb fillets and any juices that have collected through the salad. Serve on toasted focaccia or coabatta bread with baby salad leaves and accompany with Roasted Garlic Aioli.
Roasted garlic aioli
Drizzle the bulbs of garlic with olive oil and wrap in foil. Bake at 180ºC for 1 hour or until a skewer can be easily inserted and the pulp is soft. Remove, unwrap and cool. Cut in half horizontally and squeeze the soft cooked pulp into a bowl. Season with the lemon juice and then whisk in the olive oil to make a thick smooth puree. Season with salt and pepper.