Add to Cookbook

Indian spiked potato kebabs with tomato and lime dip
30 minutes (including preparation time)
10 as a nibble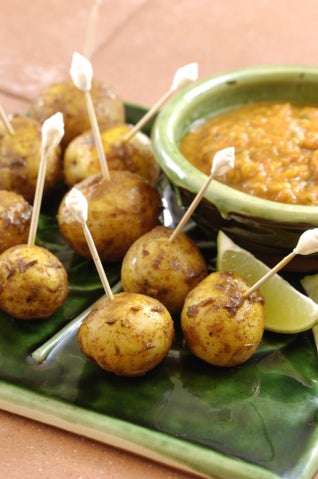 This hearty nibble is ideal over summer when we need substantial nibbles that are healthy, easy to make and interesting.
Ingredients
750 grams baby new seasons potatoes, scrubbed
1 teaspoon cumin seeds
1-2 tablespoons Indian curry paste (use your favourite)
1 tablespoon chopped fresh coriander
¼ cup water
Tomato dip
1 teaspoon cumin seeds
¼ teaspoon turmeric
¼ teaspoon chilli paste
1 teaspoon minced garlic
1 teaspoon minced ginger
3 large tomatoes, blanched and peeled (or 400 gram can tomatoes in puree or juice)
grated rind and juice 1 lime
1 teaspoon chopped fresh coriander
Method
Cook the potatoes in boiling salted water until tender. Drain.
Heat a dash of oil in a large pan and add the cumin seeds. Cook for 30 seconds until fragrant and then add the curry paste and potatoes and toss gently for 1-2 minutes. Add the water and cook tossing the potatoes in the pan until they are coated in the paste.
Serve on skewers or with a toothpick garnished with the chopped coriander and accompanied with the Tomato and Lime Dipping Sauce.
Tomato and Lime Dipping Sauce
Heat the oil in a medium-sized pan and add the cumin seeds. Cook for 30 seconds then add the turmeric, chilli paste, garlic and ginger. Cook for 1-2 minutes.
Dice the peeled tomatoes and add with the lime rind and juice. Cover and cook for a further 3-4 minutes. Season with salt and sugar.
Place the tomato mixture in a food processor with the coriander and process until smooth. Serve warm or cold with the coriander and cumin new potatoes.