Add to Cookbook

Indian Lamb Pizza With Pear And Tamarind Chutney
15 minutes
10-12 minutes
4-6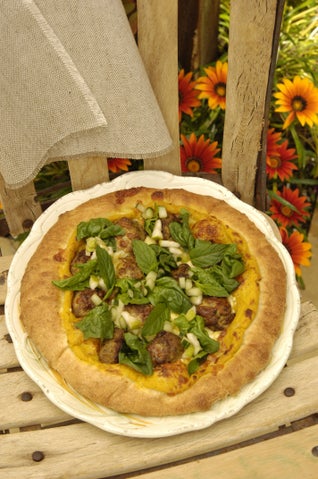 Go Indian with a pizza and chilled beer during the late summer. The pear chutney is well worth the effort as it has just the right amount of sweet and sour to complement the lamb. This is an ideal recipe for introducing your own variations.
Ingredients
2 large pizza bases
250 grams lamb mince
¼ red onion, minced or finely chopped
1 tablespoon freshly grated ginger
1 egg
1½-2 tablespoon curry powder
2 tablespoon chopped fresh mint
200 gram tub pumpkin and kumara hummus
½ cup pizza sauce
100 grams feta cheese, crumbled
4 scallopini, or use 2 courgettes, sliced (optional)
150 grams fresh mozzarella, grated
few handfuls baby spinach leaves
few sprigs fresh mint
Method
Preheat the oven to fan bake at 230ºC. Spread the edges of the pizza bases lighly with oil.
Mix together the lamb mince, red onion, ginger, egg, curry powder, mint and season with salt and pepper. Mould the mixture into meatballs about the size of a small apricot.
Brown the meatballs quickly over a high heat in a dash of oil and set aside. Do not cook the meatballs at this stage, just brown.
Spread the hummus evenly over the two pizzas and then dot with the pizza sauce. Scatter over the feta cheese and arrange the meatballs and sliced scallopini (if using) on top before sprinkling with the mozzarella.
Bake the pizzas one at a time in the prerheated oven for 10-12 minutes or until the pizza base is golden. Remove from the oven and serve with spinach and mint leaves and Pear and Tamarind Chutney (see this website for recipe).