Add to Cookbook

Hushpuppies with Creole tomato dip
Makes about 30 hushpuppies and 2 cups of Creole to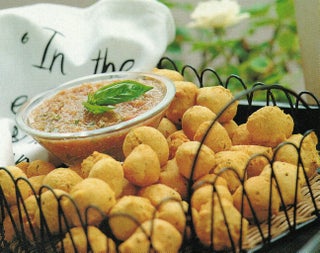 The story goes that these mosels were thrown at the dogs to stop them barking - hence the name hushpuppies. Sounds like a good story anyway. They are served as an entree or nibble.
Ingredients
1 cup fine cornmeal
¼ cup flour
¼ cup cornflour
2 teaspoons baking powder
a good pinch salt
½ teaspoon paprika
25 grams butter
2 tablespoons chopped fresh thyme
1 egg
½ cup milk
a few drops Tabasco sauce
Creole tomato dip
4 large beefsteak tomatoes
1 stick celery
2 spring onions
¼ cucumber
½ cup tomato puree
¼ teaspoon Tabasco sauce
2-3 tablespoons chopped fresh basil
freshly ground black pepper
Method
Sift the cornmeal, flour, cornflour, baking powder, salt and paprika into a bowl. Rub in the butter until the mixture resembles fine crumbs. Stir in the fresh thyme and make a well in the centre.
Beat the egg and mix with the milk and Tabasco sauce. Stir into the dry ingredients to form a soft dough.
Roll walnut-sized pieces into evenly shaped balls and deep-fry at 180 degress Celsius for about 3 minutes until the hushpuppies have risen to the top. Cook about 6 at a time in order to not overcrowd the deep fryer. Keep warm on a sheet of absorbent paper in the oven while you cook the remaining mixture. Serve warm with Creole tomato dip.
Creole tomato dip
Blanch the tomatoes and peel. To do this bring a saucepan of water to the boil. Make a small crosscut in the top of the tomato and then cut out the core. Add the tomatoes to the boiling water and as soon as you see the skin split, lift them out with a slotted spoon and place in cold water. Peel away the skins and discard.
Roughly chop the tomatoes, celery and spring onions. Peel the cucumber and remove the seeds by running a teaspoon down the centre of the cucumber to lift up all the seeds easily and quickly.
In a food processor or blender, process the chopped vegetables, tomato puree, Tabasco sauce and basil until almost smooth. Season with pepper. Serve chilled.