Add to Cookbook

Hungarian bean and vegetable hot pot
soaking time: 12 hours, preparation time: 20 minutes
in the slow cooker: low 10-12 hours, high 6-8 hours
4-5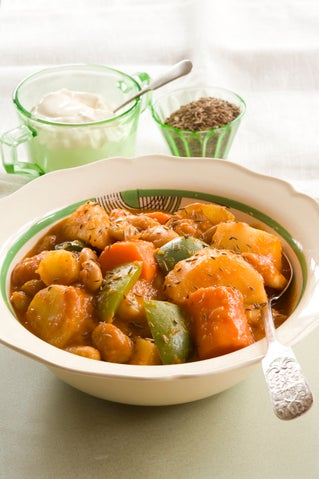 The sweet, pungent and even earthy and gutsy flavour of paprika brings a touch of Hungary to this easy-to-make and economical vegetarian dish.
Ingredients
1 cup dried large lima beans
420 gram can condensed tomato soup
4 cups vegetable stock or water
1-1½ tablespoons paprika
1 tablespoon minced garlic
¼-½ teaspoon caraway seeds, optional
2 bay leaves
4 medium-sized waxy potatoes, peeled
3-4 carrots, peeled
2 parsnips, peeled
2 large onions, peeled
2 green capsicums, cored
250 gram tub sour cream (not lite)
Method
Soak the lima beans in plenty of water for 12 hours. Allow 3-4 times the amount of water to beans.
Turn the slow cooker on to low to pre-warm while gathering and preparing the ingredients.
Drain the beans well and place into the pre-warmed slow cooker.
Stir together the tomato soup with the stock or water, paprika, garlic and caraway seeds if using. Pour over the beans, add the bay leaves and stir to mix evenly. Cover with the lid.
Cook on low for 6 hours or on high for 4 hours.
Cut the potatoes into quarters. Cut the carrots and parsnips into 4-cm chunks. Chop the onions and capsicums roughly.
Scatter in the potatoes, carrots, parsnips, onions and capsicums and stir to mix as evenly as possible. Cover with the lid.
Continue to cook on low for a further 4-6 hours or on high for a further 2-4 hours or until the vegetables and lima beans are tender.
Stir in the sour cream before serving. Have a bowl of extra sour cream and a bowl of toasted caraway seeds to serve alongside for those who would like to add more of each.
Cooks Tips
- Large lima beans take a good while to cook. They require long soaking and are best cooked on low where they will hold their shape well and soften from the long slow cooking. - Paprika was once called Turkish pepper. Spice lovers should look beyond the supermarket standard for different grades of paprika to taste and be able to appreciate this intriguing spice. Hungarian paprika comes in grades including exquisite delicate, delicate, noble sweet and hot. - In Spain, paprika is called pimenton and is often smoked. It tastes very different from Hungarian paprika but try it here for a variation if wished. Variations: