Add to Cookbook

Hot Smoked Salmon And Courgette Muffins
15 minutes
15 minutes
Makes 12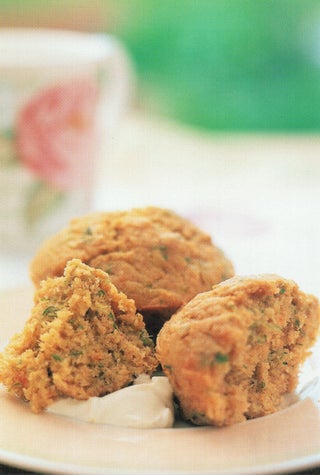 These yummy muffins are wheat free..what could be tastier for lunch?
Ingredients
1½ cups buckwheat flour
½ cup fine cornmeal
2 tsp baking powder
1 tblsp mustard powder
100 grams hot smoked salmon, finely chopped
¼ cup grated parmesan cheese
2-3 tblsp chopped parsley
1 cup grated courgettes (or use cooked, grated carrot)
¼ cup light olive oil or melted butter or margarine
1¼ cups milk
2 eggs
Method
Sift the buckwheat flour, cornmeal, baking powder and mustard powder into a bowl.
Stir in the salmon, cheese, parsley, if using, and make a well in the centre.
In a separate bowl or jug, mix together the courgetts, oil or melted butter or margarine, milk and eggs. Gently stir into the dry ingredients. Divide evenly among 12 well-greased muffin tins.
Bake at 180ºC for 15 minutes.