Add to Cookbook

Hot camembert stuffed mini muffins
20 minutes
10-12 minutes
Makes 24 mini muffins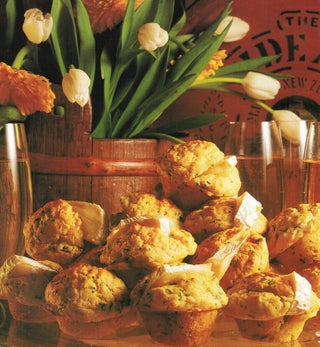 These jazzed up mini cheese muffins are a delightful savoury nibble.
Ingredients
2 cups flour
4 teaspoons baking powder
1 teaspoon paprika
½ teaspoon salt
½ teaspoon ground black pepper
50 grams butter
1 cup tasty Cheddar-style cheese, grated
2 tablespoons each of fresh thyme and fresh oregano, chopped or 1 teaspoon each dried
1¼ cups milk
1 egg
250 grams Camembert cheese
Method
Preheat the oven to 200C. Line 24 mini muffin cups with paper cases.
In a large bowl, sift the flour, baking powder, paprika, salt and pepper.
Rub in the butter until it resembles crumbs. Stir in the grated cheese and herbs and make a well in the centre.
In a separate jug, beat the milk and egg together and pour into the well of the dry ingredients. Stir together gently using a slotted spoon.
Divide the mixture evenly amount the prepared mini muffin cups.
Bake in the preheated oven for 10-12 minutes until golden brown and cooked. Cool on a cake rack.
Just before serving, cut the Camembert into 24 thin slices. Make a cut in each muffin and fill with a slice of the Camembert.
Bake in a 200ºC oven for 5 minutes until the cheese has just softened.