Add to Cookbook

Honeyed shoulder of lamb
20 minutes
in the slow cooker low 6-8 hours, high 4-5 hours
6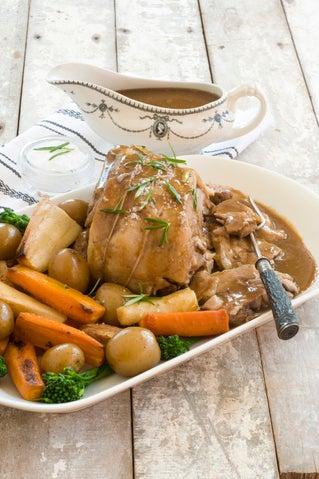 Lamb has an affinity with honey and both partner well with cinnamon. Cooking with honey in the slow cooker allows the unique flavours of the particular honey being used to penetrate through the lamb and vegetables without the risk of honey burning dur to direct heat. If you're not fond of sweet spices with lamb, delete the cinnamon and replace with 1 teaspoon dried thyme or rosemary.
Ingredients
3-4 parsnips, peeled
3-4 carrots, peeled
500 grams small waxy potatoes, scrubbed
3-4 tablespoons medium-to-strong flavoured honey
2 tablespoons oil
½ teaspoon ground cinnamon
1.5-1.6 kilogram boned and rolled shoulder of lamb
1 cup beef stock, plus extra to finish
3 tablespoons instant gravy powder
Method
Turn the slow cooker on to low to pre-warm while gathering and preparing the ingredients.
Cut the parsnips, carrots and potatoes into chunky pieces. If the parsnip core is tough, cut it out.
Toss the parsnips, carrots and potatoes with the honey, oil and cinnamon.
Heat a dash of oil in a large heavy-based frying-pan and, when hot, brown the lamb as well as possible on all sides.
Place the lamb into the pre-warmed slow cooker and scatter the honey-coated vegetables over and around the lamb.
Pour into the stock and cover with the lid.
Cook on low for 6-8 hours or on high for 4-5 hours, or until the lamb and vegetables are tender.
Carefully lift the lamb and vegetables from the slow cooker and arrange on a warm meat platter.
Make the braising liquid in the slow cooker up to 2 cups with beef stock and place into a saucepan with the gravy powder. Stir over a moderate heat until thickened.
Serve the lamb sliced with the vegetables and gravy.