Add to Cookbook

Honey-glazed pig's shanks
10 minutes
pre-boiling: 60 minutes, roasting 45 minutes
4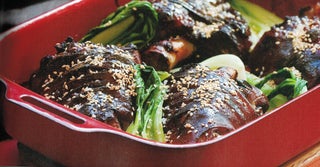 The meat melts off the bone of these sticky glazed shanks.
Ingredients
4 pig's shanks
1 tablespoon dark soy or Indonesian soy sauce
2 teaspoons minced ginger
½ cup runny honey
½ cup brown sugar
1 teaspoon Chinese five-spice
Method
Place the pig's shanks in a large saucepan and cover with cold water, add the soy sauce and ginger. Bring slowly to the boil, lower the heat and simmer gently for 1 hour. The meat should be falling off the bone.
Preheat the oven to 200ºC.
Remove the shanks from the saucepan and place on a foil-lined baking tray. (At this point the shanks can be refrigerated for roasting later on).
Mix the honey and brown sugar together and brush half over the shanks. Mix the Chinese five-spice into the remaining mixture and set aside.
Roast in the preheated oven for 15 minutes. Drizzle over the remaining spiced honey and return to the oven for 30 minutes or until shanks are well glazed and sizzling hot.
Serve with Chinese greens and steamed rice and accompany with your favourite Chinese sauce, such as sweet chilli, soy, oyster or hoisin.